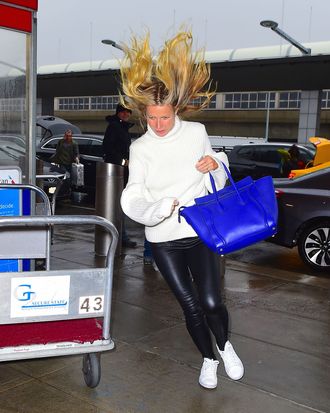 Ahhhh!
Photo: 247PAPS.TV / Splash News
Gwyneth Paltrow is rarely seen with a blonde hair out of place, and her placid smile always looks like she just moments ago stepped off a yacht docked in Positano. The woman is so suspiciously impeccable that there is reason to believe she's an undead spirit who's been roaming Earth since the early 13th century, haunting mortals with her well-fitting chambray and luminous skin.
But arriving at JFK on Wednesday, Paltrow tried out her best impression of a human who is late for a flight during inclement weather. "Ack! My hair!" she said, clutching her blue Céline bag to her cream turtleneck. "This weather! It's mad!"
Nice try, Gwyneth. We don't buy it.