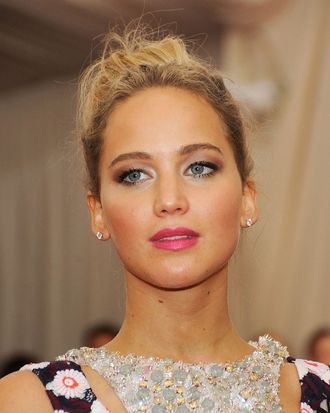 Jennifer Lawrence.
Photo: Rabbani and Solimene Photography/Getty Images
In today's edition of Lenny Letter, Jennifer Lawrence speaks on her battle to get paid the same as her male co-stars. J.Law's writing sounds exactly like her blunderful speaking voice. (After not doing the ASL challenge because it was "trendy": "I should have written a check, but I fucking forgot, okay? I'm not perfect.")
That said, the subject of her letter to Lenny is not a missed opportunities to show her charity, but how she intends to change her habits when it comes to the gender pay gap. She was incensed when the Sony hack revealed that her male co-stars were getting paid more than she was, but kind of let it go initially. "I didn't get mad at Sony. I got mad at myself. I failed as a negotiator because I gave up early," she writes. "But if I'm honest with myself, I would be lying if I didn't say there was an element of wanting to be liked that influenced my decision to close the deal without a real fight. I didn't want to seem 'difficult' or 'spoiled.' However, when the leaked emails demonstrated that her colleagues and their representatives had no problem with real talk on money, Lawrence had to rethink: "Could there still be a lingering habit of trying to express our opinions in a certain way that doesn't 'offend' or 'scare' men?"
Lawrence says she is now willing to shed her innately likable personality in order to get what she deserves. "I'm over trying to find the 'adorable' way to state my opinion and still be likable! Fuck that." Seriously! "I don't think I've ever worked for a man in charge who spent time contemplating what angle he should use to have his voice heard. It's just heard." We hear ya, Jen.