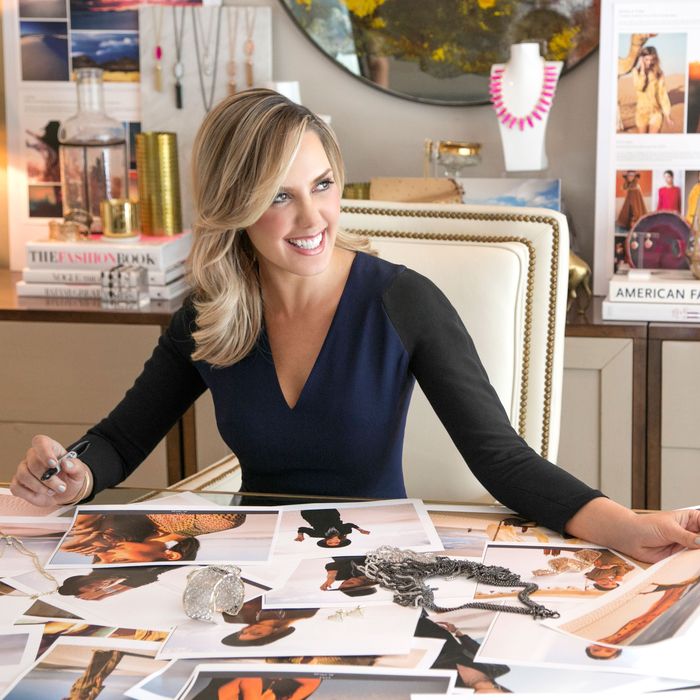 Kendra Scott.
Photo: David Heisler/Courtesy of Linda Gaunt Communications
You might not know the name Kendra Scott, but come 2017, you will. The jewelry designer started her business 13 years ago with $500 in her spare bedroom; today, she has 39 stores around the country, and New York City is next on her list of territory to conquer.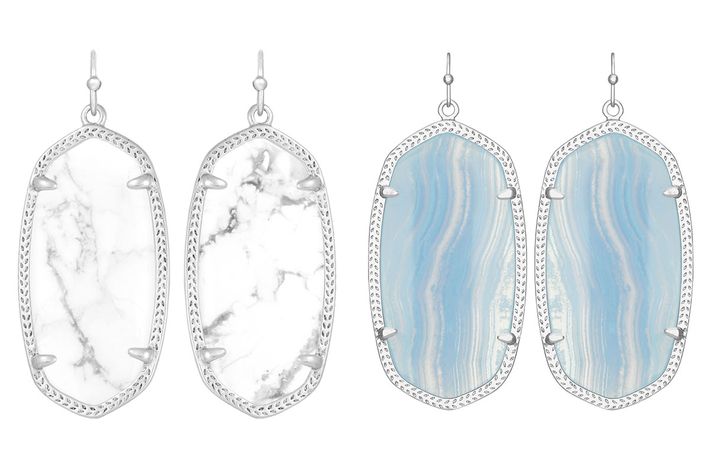 Scott's Danielle (left) and Elle (right) earrings have been worn by celebrities like Sofia Vergara and Mindy Kaling on the red carpet, but they're priced under $100. Made of massive pieces of amethyst and agate molded into Scott-designed shapes, they're both top sellers. The combination of affordable — if not actually cheap — pricing and signature shape is a strategy that has put plenty of other brands on the map; the earrings are Scott's equivalent of Longchamp's Nylon tote, Tory Burch's signature logo flats, or Kate Spade's two-tone bag.
Scott started with a hat store, which she opened after her stepfather passed away from brain cancer, thinking that she would help women going through chemotherapy. But she found that she was more passionate about the jewelry that she made and sold on the side. "After five years of trying to make the hat business work, I was pregnant with my son and decided to go for it. I made a small collection and went store to store with the pieces. By the end of the day everything was sold out," she told the Cut.
By 2010, she'd built up a steady customer base and was selling wholesale to stores like Nordstrom, but decided to take a risk for greater return. "The recession was a real eye-opener for me. I was determined to build a brand that could stand tough economic times, and that meant building our own retail space, e-commerce, and working directly with our customers," she explains.
The move paid off. By the end of 2015, the company will be at $150 million in revenue, and Scott and her team attribute the growth to their connection with the customers. In her stores, there are no lock cases. Guests are encouraged to try on jewelry and even bring in clothing to match with pieces. The in-house Color Bar allows shoppers to make custom pieces from 40 different stones and metal finishes on a 55 inch touchscreen — a feature so popular, she says, there are lines outside her Texas stores most days of the week. Employees set the jewelry right in front of customers, and pieces are guaranteed to be ready within 20 minutes.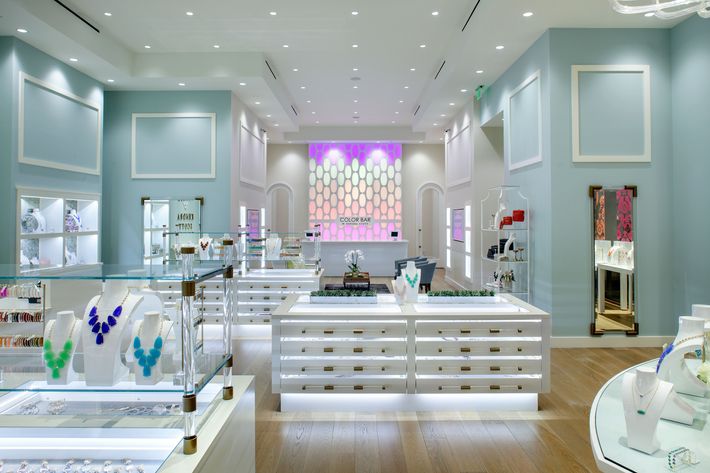 Online, Scott's sales are no small feat either. On a recent Monday, providing customers with an occasional 10 percent off discount, they clocked in ten orders a minute and made $1 million in sales by 9 p.m.
"I started this because I was a woman who wanted beautiful jewelry at an affordable price," she says. "I've built this business over time, literally signed my life away and everything I own up for collateral for this to work. That is the core of my brand, and that will never change."