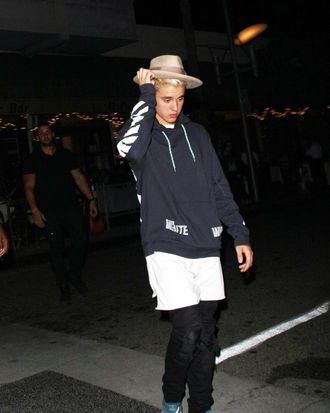 Perplexed Bieber
Photo: Roshan Perera/Splash News
Justin Bieber has been famous for the entirety of his teenage and adult life, which means that sometimes the things that you or I do (peeing, walking, wearing clothes) can be especially hard for him to execute naturally. We understand, J-Biebs. It hasn't been easy for be a normal butt-head 21-one-year-old because the paps and the Beliebers are always after you.
But this story, which appears in "Page Six" today, is a tad mystifying. What happened last night at Il Pastaio restaurant in Beverly Hills?
According to a spy, the "Baby" singer, wearing an oversized hoodie and a fedora, slipped into eatery Il Pastaio fairly unnoticed and settled into a table by himself. "He ordered nothing — some people noticed him and after about two minutes he disappeared," the source told Page Six. "He was just gone."
Okay — pretty weird stuff, bud. But Bieber hadn't just decided the menu wasn't to his liking; he seemed legitimately perplexed by his decision to eat alone. "He looked totally confused," the source told "Page Six." "Paparazzi followed him on the side street until he got into his Escalade and took off."
What I wouldn't give to have five minutes inside the delicate mind of boy wonder Justin Bieber.