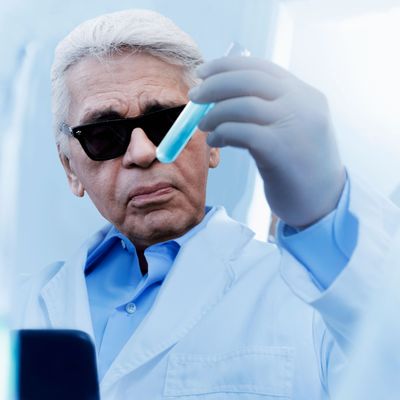 Karl Lagerfeld.
Photo-Illustration: REB Images/Corbis, Getty Images
Designing Chanel, Fendi, and his namesake line, pursuing photography, 7 million collaborations — where does Karl Lagerfeld get the energy? If you think he should be studied, you're not the first — the designer says scientists have approached him about doing DNA testing to determine the source of his almost eerie vitality. (We bet even his DNA helixes feature interlocking double C's.) "I was asked by somebody to do this. Because they think I'm not normal," the designer told Alexandra Shulman for the latest issue of British Vogue. "But I flatly refused. Unique pieces are unique pieces. But I think, very flattering, huh? And also I was asked for skincare for men because they think I am remade. But I am not remade. I am all fake but not remade."
It sounds like aging is agreeing pretty well with Lagerfeld. "I think I'm pretty lucky that I can do what I like best in perfect conditions. I don't have to fight with anybody," he says. "You know my contracts with Fendi and Chanel are for life? And I don't feel tired at all. I hate slow people. Horrible." No wonder his models rolled their logo luggage down the runway so speedily at today's show.