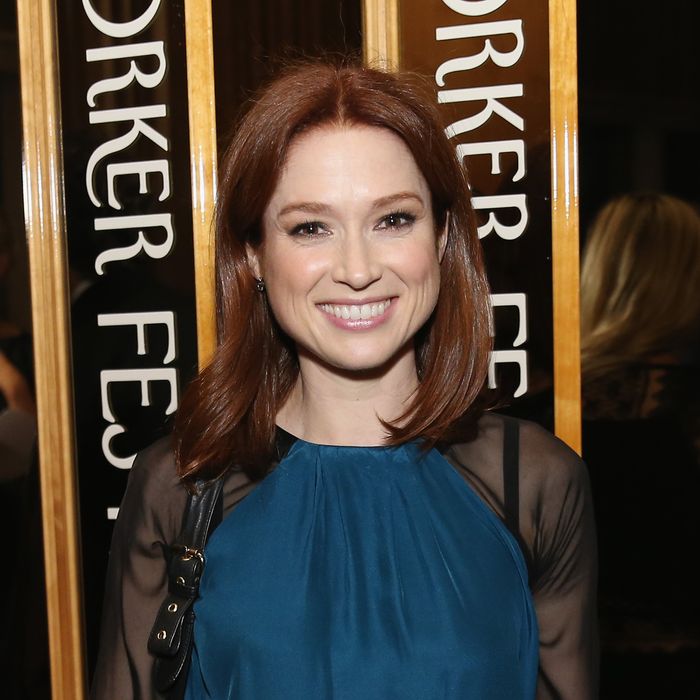 Ellie Kemper at the 2015 New Yorker Festival Wrap Party on October 3, 2015 in New York City.
Photo: Neilson Barnard/Getty Images for The New Yorker
The Unbreakable Kimmy Schmidt star Ellie Kemper thinks her ferociously positive character would fit right in with Greenpoint hipsters, at least when it comes to her sunny wardrobe.
"We shoot in Greenpoint," Kemper said, "and I'll be wearing these clothes, ridiculous clothes in my mind, and I'll go out to get coffee, and nobody looks twice."
Speaking with New Yorker writer Lauren Collins at the New Yorker Festival on Saturday, the Bridesmaids actress said that Kimmy — who was held captive for 15 years in an underground doomsday cult bunker before moving to New York — would probably shop at Conway, the now-defunct bargain department store.
"It's just very bright, cheap clothing," she explained.
To get into character, Kemper said she only needs to put on Kimmy's signature pink pants.
"It's so girlish, because she's dressing like a 14-year-old or a 15-year-old because that's her sense of fashion," she said, adding that nobody in the hip Brooklyn neighborhood seems to mind "because everybody there dresses like that."
Collins agreed, saying, "They're like, 'That's an amazing outfit, where did you get it?' And you're like, 'Conway!'"