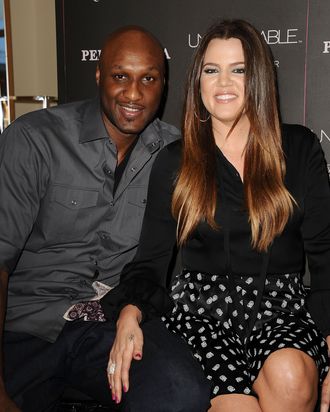 Lamar and Khloé.
Photo: Jason LaVeris/FilmMagic
Following Lamar Odom's recent overdose at a brothel in Las Vegas, the best Kardashian sister, Khloé, rushed to the former basketball player's bedside to be with the man she married six years ago, a marriage that came after only having known each other for a month. The pair have had a long-documented on-again/off-again relationship, and after Odom's overdose, Khloé called off her current relationship with Rockets player James Harden, raising many a question about the Lamar-Khloé future.
If you recall, Khloé filed for divorce from Odom in 2013, but had held off finalizing the divorce because she hoped Odom would seek rehab for his drug problems. Now, TMZ is reporting that, after signing papers by his bedside, Lamar and Khloé have decided to call it off entirely. Laura Wasser, Khloé's counsel, appeared before a judge on Wednesday asking for the divorce papers to be withdrawn. That file is now dead, so the Odom-Kardashian marriage is officially back on again.