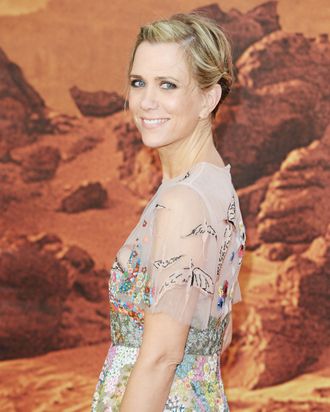 Kristen Wiig.
Photo: Rune Hellestad/Corbis
Kristen Wiig is a very funny person who happens to also be a woman, and as she's starring in a new film called Nasty Baby and has been photographed dressed like a Ghostbuster, Wiig has been hopping around the press circuit as of late. What inevitably comes to pass when celebrities do dozens of interviews is that they will get asked the same question a lot. For Wiig, it's musing on the state of women in comedy.
In an interview with the Los Angeles Times, Wiig is slightly cornered into addressing the alleged "rise" of women in comedy when her interviewer says, "Ever since the success of 'Bridesmaids' there's been a conversation happening, and it came back this summer with both 'Spy' and 'Trainwreck' …" Wiig responds, "You're not going to ask me the 'women in comedy' question, are you?" He sure is.
"Why do you think the question keeps getting asked? What about it hasn't been answered?" her interviewer wonders. Wiig responds that there have been funny women for as long as we've been alive and this query is getting to be a bit much:
I think the fact that people keep asking it implies that it's something we need to explain or defend. If [people] would watch movies or look at comedy and see how many talented, funny women are out there and have been since the beginning of time, people would stop asking that. The other side of it is we're still not there as far as opportunities. But people are doing the work.
While we'll stay forever hopeful, this is surely not the last of the "women in comedy" question.