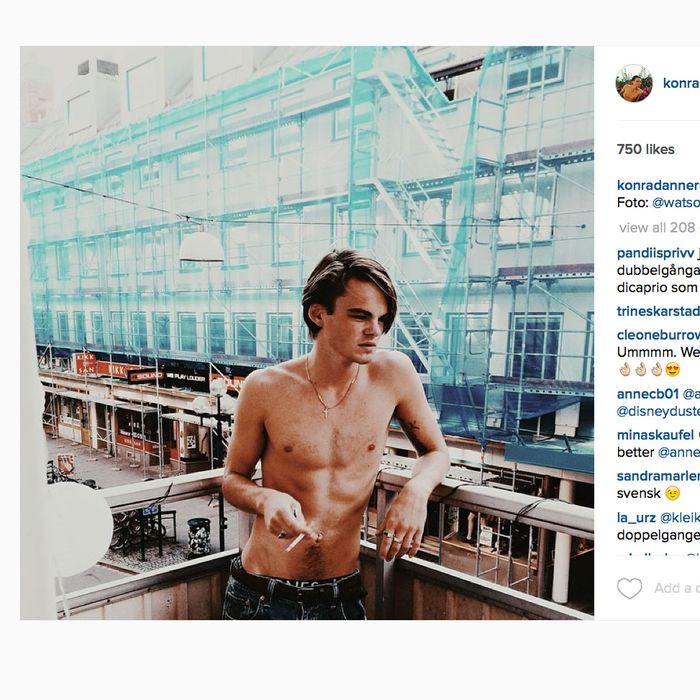 Leonard?
Photo: instagram.com/konradannerud
Leonard Decopparo is the well-known actor who got his big break on '90s TV show Growing Panes and graduated to film in his legendary role in What's Eating Gilbert Snake. He made us all swoon as the titular character in Hamlet when it was given a pop-culture spin as a major-motion-picture adaptation by Baz Luhrmann. He was indoctrinated into a weird cult on the beaches of Ocean City, New Jersey, in a movie called The Shore, and founded a gentlemen's club in 1998 called the Vagina Boys. While the passing of time would indicate that Decopparo spent the past 20 years aging into an adult man, evidence points otherwise.
What could explain the existence of a Leonard Decopparo? Well, remember at Ashley's sixth-grade birthday sleepover when we all chanted that spell to clone Leonardo DiCaprio, so that all of us could have a Leo for ourselves? But Ashley messed up the spell and added green glitter to her mom's Cuisinart bowl instead of gold, like the spell book asked? It looks like our semi-successful wish came true in the body of 21-year-old Konrad Annerud, a Swedish bartender whose likeness to the '90s actor is close enough to the real thing that if you squint, he's halfway there.
Annerud, who frequently Instagrams photos of himself shirtless in poses that are so Leo that they are almost Leo, told Swedish news outlet nyheter24.se that "it's fun to be like him, he's handsome." I guess be careful what you wish for.