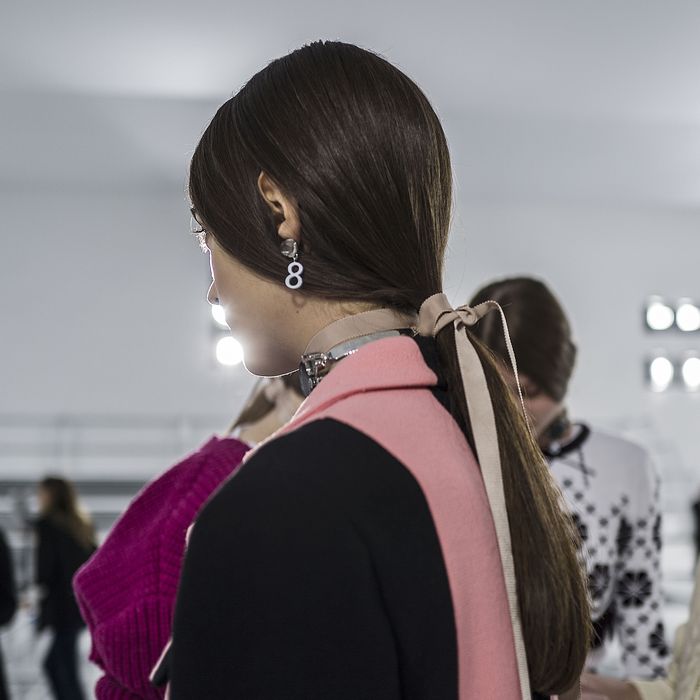 Photo: Rick Hawks/Agent Mel
This season at Dior, beauty explored a verb tense: past future perfect. It sounds terribly confusing, but when Guido Palau and Peter Philips explain it, it all makes sense.
Let's start first with the hair, which was an intriguingly low ponytail with one ear — adorned with a dazzling Dior earring, of course — peeking through. Tucked into a neckerchief and then secured with a ribbon, the look seemed modern, futuristic, and historical at the same time: a little past future perfect.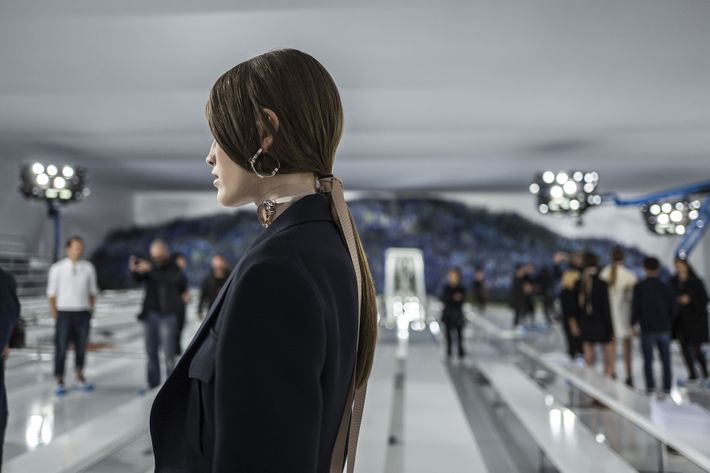 Palau, Redken's creative consultant, explained that the past inspiration was the Victorian era, with the ponytail lying flat and covering the ears. The statement earring and the hair's sleekness (achieved using Redken's Satinwear and Diamond Oil Glow Dry on wet hair that was then blown dry) gave it that sense of futurism. "The girls all look sort of pure. It's almost like a future idea of beauty. Everything from the past goes to the future and back and forth. [Raf's] thing is the future; it's not a historical point of view. So the girls look kind of futuristic in their simplicity."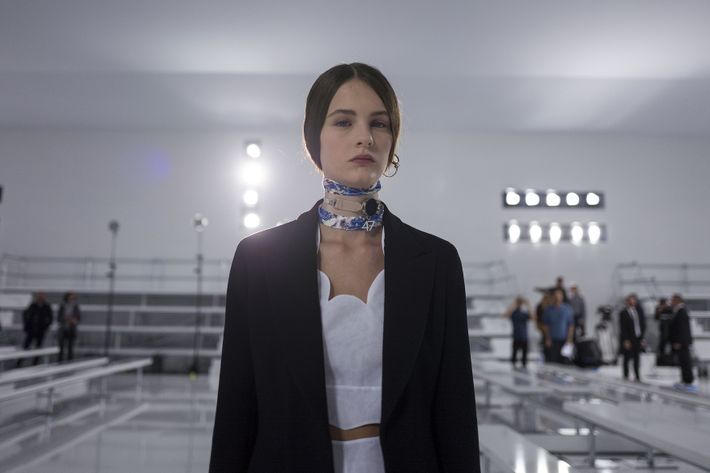 For the makeup, that sense of futuristic simplicity was reflected by an unusual color choice: pastel pink. Peter Philips, Dior's creative and image director, kept it from looking too Easter egg by keeping the rest of the face very clean. He used the pink Dior 5 Couleurs "Glowing Gardens" Eyeshadow Palette in Rose Garden #451 as a sheer wash of color, a texture that was meant to look almost sensual in its transparency. To keep the look feeling fresh, brows were very lightly defined, lashes were naked, and faces had no visible sculpting or contouring. You may not know exactly how to conjugate the past future perfect, but now you know what it looks like in beauty.