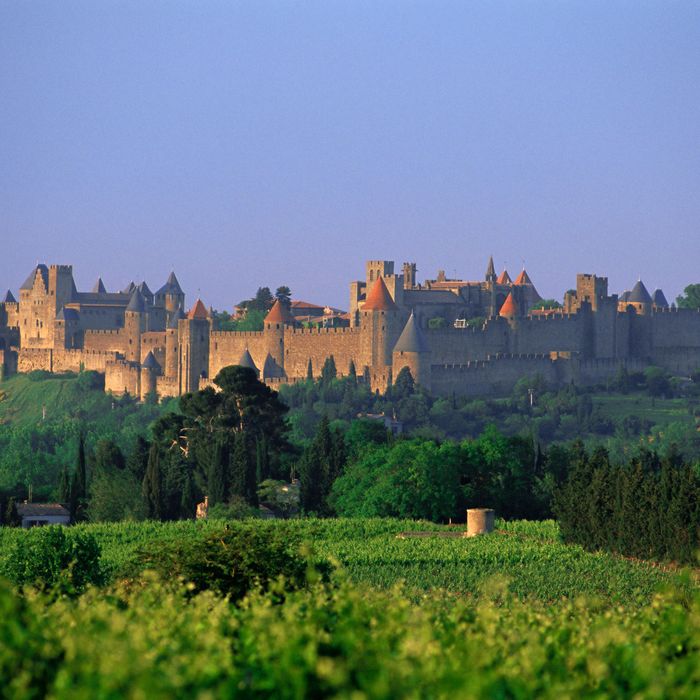 Languedoc.
Photo: Jean-Pierre De Mann
This week, the Cut is featuring Escapades, a series of journeys by adventurous women.
The farm lay six kilometers past the end of the paved road that winds from Béziers into the mountains overlooking the Mediterranean in the Languedoc, a part of France that's high, windy, and rarely traversed by outsiders. Its name was taken from the old French phrase for a spring that's run dry, a place where water used to be, and it was indeed dusty and desiccated, occupied only by a man, a woman, a child, 16 horses, three cats, a litter of kittens, a clutch of chickens, and a peacock. In the summers, they took in vacationers who wanted to learn to ride horses. 
I arrived there because the farmer, a Bavarian named Stefan, and his partner, Charlotte, needed a seasonal worker to help with an influx of German tourists. Nine months previously, I'd separated from the man I'd been with for five years, since age 18, and moved into an attic studio on New York's Upper West Side. I was alone for the first time in my adult life, and learning clumsily to do everything without a partner. It was painful — I felt bereft — and compelling — I felt free — and I began to cultivate an interest in seeing how much of these new feelings I could tolerate. This led to a ten-week trip alone across Europe. My plans for the last few months fell through, and so I found, via the internet, Stefan and Charlotte.
Upon arrival, it became clear that what I expected to be a French-speaking farm was in fact German-speaking — a consequence of the complicated history of the Pyrenees. I learned also that there was no town nearby; that my phone was useless at that elevation, and email was only accessible after midnight. I was to sleep in "the caravan" — a small camper van — deemed unfit for the paying guests, which seemed to have been cast aside when it broke down, two fields from the house. The first night, ants poured in through a hole in the wall and pooled on my platform bed. I hid my head under a torn army blanket and repeated, "This is fine. This is fine."  I awoke every morning surrounded by dead ants.
On my first day of work, Stefan met me by the kitchen door. He was lean and darkly tanned, with dirt and horse manure in the creases of his elbows. In thickly-accented Bavaroise, he instructed me to scrub the outhouse, clean the guest rooms, throw bales of hay into the barn, haul wood for chopping, and fertilize the garden with a soupy mixture of fermenting horse manure. I'm built a little more like a noodle than a lumberjack, but I did it all without comment, sensing that I was being tested. At sundown, he handed me a shovel and pointed at the horses' grazing pasture. "Pick up all the horse shit and put it in the shit pile near the water tank." I worked for two more hours. That evening, at dinner, noticing that the kitchen was the only part of the farm he avoided, I let it drop that I could cook. The next morning, I was reassigned, a change I greeted with relief.
There were three women at the farm cooking for roughly 30 guests. The staff was led by Charlotte, the eldest at 29, windburned and wry. Every day she wore the same work boots, jeans, and long braid. I formed the midpoint in age between her and the youngest, an affectionate, gamine German teenager named Lina who was working there for the summer until she returned to high school in Dusseldorf. We fell into a routine: For breakfast, we cut fruit, thick slices of brioche, and hard, brown bread, to be served with butter. For dinner, we made a three-course meal consisting of whatever was in the pantry or the garden that seemed appetizing. In between, dishes. Periodically, Stefan would enter as we were working, sit at the table, thrust a hand out without turning his head, and command, "De l'eau." Then, one of the us would have to set down her work, pick up the jug of water sitting before him, pour a glass, and pass it to him.
An intimacy grew quickly between Charlotte, Lina, and myself despite the language barrier. Kitchens allow you to learn intuitively what people want and what they like, how their memory works, and how basic delight or distaste manifests in their faces. We came together over simple, food-related questions: What do children eat for breakfast where you come from? What do you eat on your birthday? At nine o'clock every evening, we set water to boil for the washing up and I'd put my favorite Aretha Franklin album on the stereo. "I Never Loved a Man the Way I Love You" helped pass the tedium of hand-washing the masses of dishes. Often, Lina would ask me to translate lyrics. In "Do Right Man," Aretha sings, "If you want a do-right all-day woman, you gotta be a do-right all-night man." "What means it?" Lina asked, puzzled. When I tried to explain, she laughed and blushed, but Charlotte smiled knowingly, and I was reminded of the rough, tender way Stefan sometimes held her face in his hands.
Each afternoon, Lina and I had a break, and we learned to make ourselves scarce in order to avoid being dragged out to a field to help Stefan lay fence or shovel manure. Most days, after washing the brunch dishes, I'd walk directly out of the kitchen, off the property and into the mountains. The point of the walking was to get lost without really getting lost, to make turns and end up somewhere strange. I tried not to change paths more than three times because there was no failsafe if I forgot the way back. ​ I left my phone behind — it didn't work anyway — so there were no maps, no music, and no one to talk to. Instead, I composed letters in my head — to the characters of books I was reading, to friends I missed, and, occasionally, to the man I was trying to leave behind. As with all letters you don't send, they were really mainly to myself.
Frequently, the farm's herding dog would follow me up and down the mountains, which were small and all in a row, like humps on a camel's back. The ground was craggy and pocked, and the trees came in two varieties: densely placed and leafy or brushlike and startling, poking up on an otherwise bald terrain. Every day, I walked until I had gone as far as I could go, turned around and looked at what I'd just crossed, and then retraced my steps. I flirted with the idea of getting genuinely lost, actually becoming as alone and exposed as I felt.
One afternoon, as I was returning with the dog, I met Lina and Stefan on the lane. She'd neglected to evade him on her break, and he was sending us both on an errand. "The horses must have found water on the mountain behind the pasture," he told us. "They've been up there a week without coming down, and I want to know where it is." He handed me a compass and gestured toward the mountain in question. "Allez le trouvent." Go find it.
"Go find it?"
"Go find it."
Lina and I exchanged glances. I handed her the compass.
Here, there were no trails or cut paths, only a long crevasse marking a dead creek. We hiked up the creek bed, avoiding the uncut woods where the natural ground cover was rosebushes, which tore at our hair and clothes until we couldn't move without tangling ourselves further. Periodically, once we'd bushwhacked our way farther up into the dust, a horse would appear from behind a bank of bushes and huff quizzically before disappearing. Stefan was right — the horses were there. But there was no water.
"It's not here," I said to Lina.
"We can't go back to Stefan without finding it," she said nervously. "He told us to find it."
"But there isn't any."
We kept climbing. The sun went down.
"This is absurd," I muttered to myself as we climbed. "This is absurd, this is absurd." Eventually, I started to laugh. I hadn't know how far I would have to go in my alienation experiment before it was okay to go home, but suddenly, I didn't know what I was doing thousands of miles from anyone I knew, halfway up an unmarked mountain, fighting off rosebushes with blood running down my legs, weeks into enforced semi-silence, and sleep-deprived from nightly ant visitations. There is a manner of being young that involves the total conviction that what's happening to you is the realest, most urgent thing that's happened to anyone. I snapped.
"WHAT THE FUCK," I yelled, tearing at a bush.
"WHAT THE FUCK," Lina yelled in agreement, not entirely sure what we were yelling about.
"Genug," I said. Enough.
"Genug," she agreed.
We called a trickle the water source and counted our lefts home, arriving laughing, dirty, and scratched just as the cake was going in the oven. Charlotte looked up as we crossed the threshold and grinned at me. "T'etais perdue?" "Were you lost?" She knew the answer.
I stayed at the farm only another week. An old friend offered me her apartment in Amsterdam, and I stayed up late to get online and book a train ticket. The next morning, I told Charlotte I'd be leaving in a few days.
On my last night, we celebrated in our nonverbal way: Lina taught me to make molten-chocolate cakes, Charlotte baked the sesame bread that had become my favorite, and I burned them copies of the Aretha Franklin record.
When it was time to say good-bye, Lina took my address and promised solemnly to write. Charlotte gave me a quick hug, slipped me 40 euro, and whispered, "Don't tell." Stefan met us at the kitchen door once again and appraised me through narrowed eyes. After a long minute, he sniffed.
"You can come back if you want."
I never did.