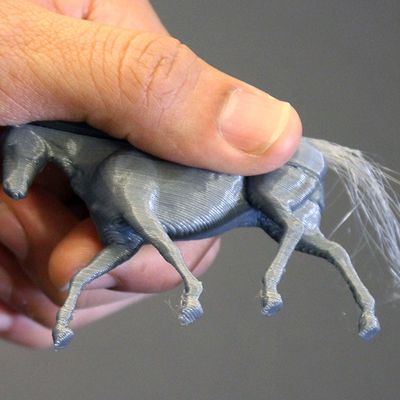 3-D hair printed on a toy horse.
Photo: chrisharrison.net
If you've ever treated your hair like the stepchild in a Disney film, there's a new innovation on the horizon just for you. Researchers at Carnegie Mellon University have created a technique for 3-D printers to print hair. The hair, which is actually stringy plastic material, can be produced at virtually any length, thickness, or color on the fly. To demonstrate the versatility of the technology, researchers printed hair for toy horses, trolls, fingers, and a brush with bristles. You can even style the hair with heat post-print, though you'll have to make due with only a blow-dryer cranked down to its gentlest setting. Nonetheless, it's sure to be the ideal quick fix for those moments when your real hair has had enough and breaks away to escape the tyranny of hot tools and chemical dye.