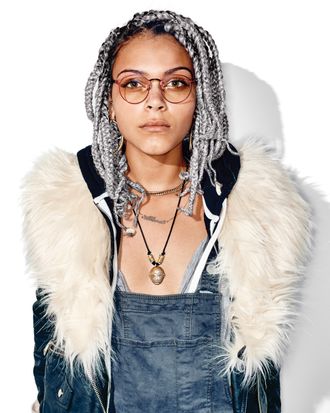 "My friends and I are all on the Bernie train. His ideas around making higher education free are really interesting to me."
Photo: Bobby Doherty/New York Magazine
Althea Bennett, College Student
What do you study? Fine art and sociology. When I was younger, I thought I'd be a professional softball player; I was a catcher and played in three leagues. But when softball got cut from the Olympics, I was like, Never mind, I guess I'll go with art. 
I assume your hair is not naturally gray? No. I want to show that even though my skin is tan, I'm gray, because my mother is white and my father is African-American.
Are you close to your parents? Yeah, they still live in Boston, where I'm from, and I talk to them probably an unhealthy amount.
What's an unhealthy amount? I'll call my mom six or seven times a day. We talk about how our days are going. I'll tell her about my sex life. The other day, we were on the phone for like three hours, and finally, my mom was like, "Okay, so I think we should get off the phone now, maybe three hours should be our limit."
Lightning Round
Neighborhood: Bedford-Stuyvesant.
Roommates: One. "My boyfriend."
School: Parsons and Eugene Lang.
Jacket: From ASOS.
Bernie or Hillary: "My friends and I are all on the Bernie train. His ideas around making higher education free are really interesting to me."
Favorite museum: The Brooklyn Museum. "I like how they show a lot of artists of color."
Favorite restaurant: Sea Thai in Williamsburg.
*This article appears in the November 2, 2015 issue of New York Magazine.