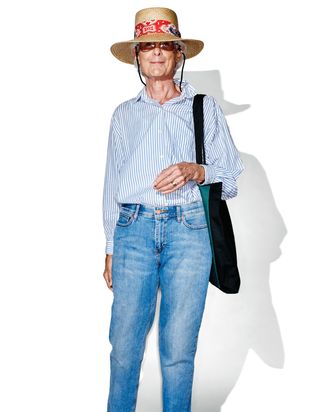 "I paid $100 a month for a studio on Jane Street."
Photo: Bobby Doherty/New York Magazine
Mary Wikler, Retired
What did you retire from? Well, I had a very checkered career: I moved to New York from New Jersey when I was 18 and worked as a secretary for the BBC. I had a mad crush on Alistair Cooke! I thought I wanted to be a model, so I went to meet with Eileen Ford, who ended up hiring me as her secretary — she fired me after two years because she said I was too slow.
So I started my own agency — we represented Twiggy — but went off to be assistant to the actor Yul Brynner, who was dating my roommate at the time. I went on tour with him when he was starring in Home Sweet Homer—it's on the wall of Joe Allen's, because when it opened on Broadway it closed the same night. When I married my late husband, who was a doctor, I ended up as an administrator for the department of psychiatry at NYU Bellevue.
Working with models versus working with psychiatrists? Basically the same thing.
Lightning Round
Neighborhood: Kips Bay.
Hometown: Ridgewood, New Jersey.
First apartment: "I paid $100 a month for a studio on Jane Street."
Hat: From Las Vegas. "I bought it in 1976."
Favorite mystery writers: Michael Connelly, Ian Rankin.
TV shows: Ray Donovan, Homeland, English mysteries on PBS, Empire: "I'm so happy Empire's back; it's so outrageous."
*This article appears in the October 5, 2015 issue of New York Magazine.