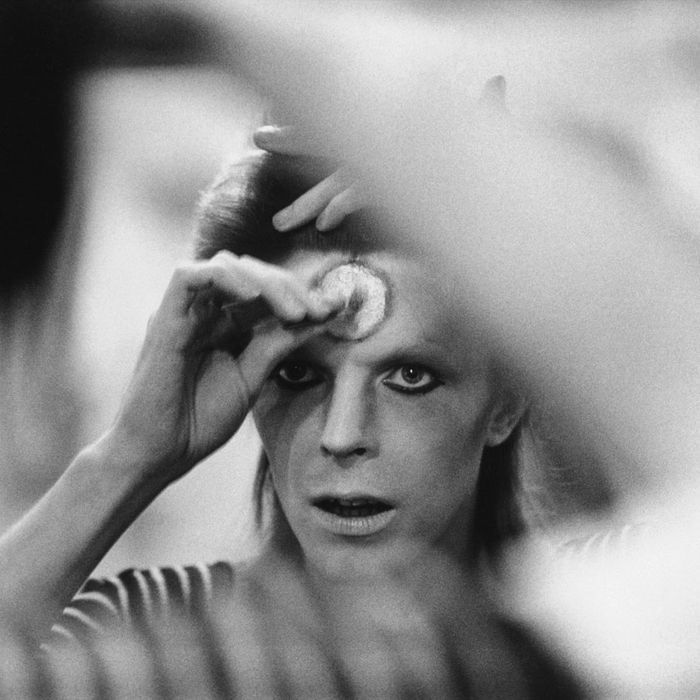 David Bowie in Aberdeen, 1973.
Photo: MICK ROCK 1973; 2015
Taschen's new title on David Bowie isn't so much a book as it is a paean. Mick Rock. The Rise of David Bowie, 1972–1973 clocks in at 300-plus pages and at over 15 pounds, and comes encased in a turquoise clamshell that matches Bowie's eye shadow in its holographic cover. The first edition, which rolls out this month, is made up of 1,972 signed copies for $700 a pop. It's by no means a small production — even though it only covers two years of Bowie's career, and features work from just one photographer: Mick Rock.
Rock hung out with Bowie from the beginning, documenting his release of The Rise and Fall of Ziggy Stardust and the Spiders From Mars and its worldwide tour. He regarded himself as a guardian of Bowie's image and is largely responsible for our idea of him today: going wild onstage in gold makeup, printed bodysuits, and an immaculately styled orange mullet.
Those photos were groundbreaking for their time, but those that stick out now are Rock's shots of Bowie undone. There are scenes like Bowie peering into a close-up mirror in a dressing room on his post-Japan, two-show-a-night U.K. tour, surrounded by cigarettes, bananas, green apples, hair spray, three bottles of wine, and a dozen different colors of face paint. Bowie is seen eating meals on the go, applying his own makeup, wearing the pink leather cap he favored when he didn't want to style his hair — even sleeping. "I got all these pictures of him hanging about looking very exotic in very mundane situations," Rock said. 
Bowie evidently approved of the photos: Upon reviewing the first batch, he reportedly told his manager: "Mick sees me the way I see myself." Click through the slideshow for an idea of what that looks like.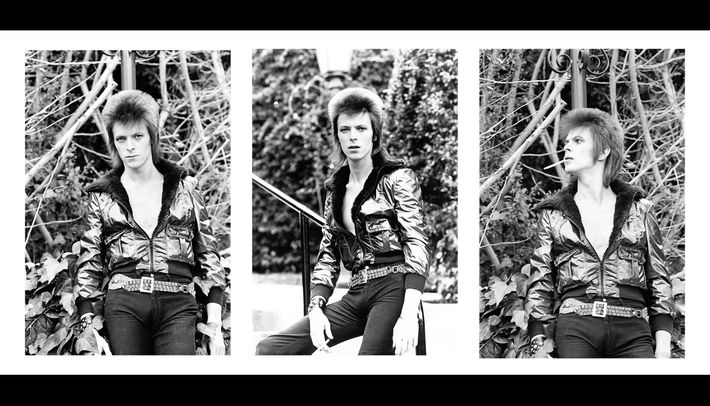 Beverly Hills Hotel, 18 October 1972.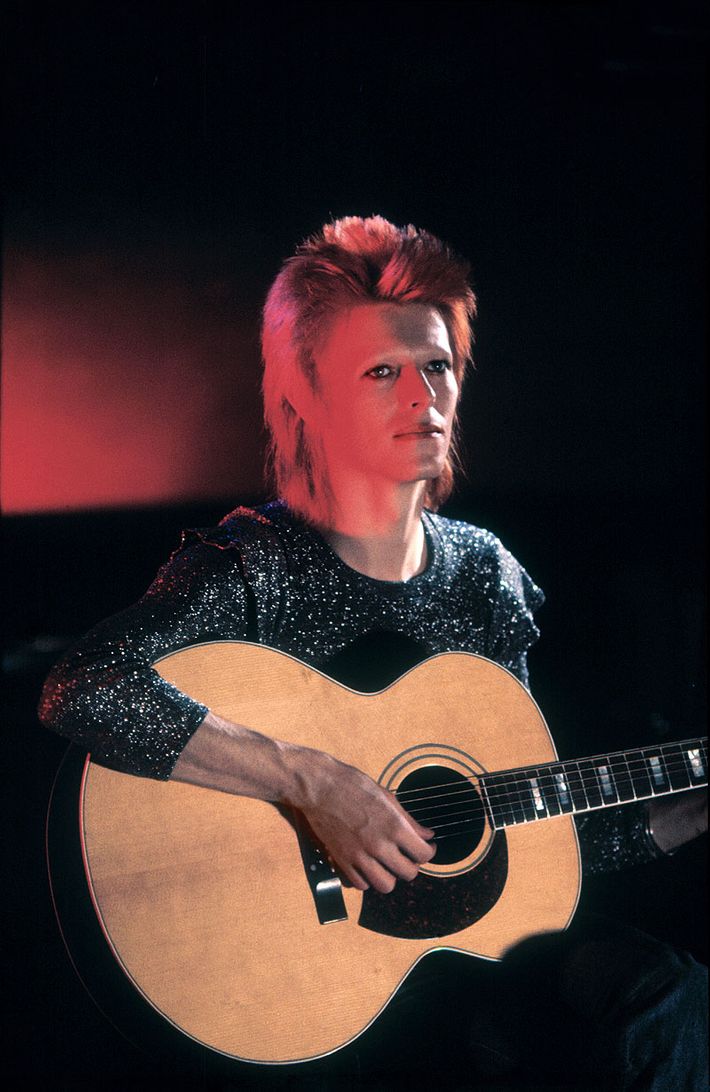 Space Oddity promo film still, 10 December 1972.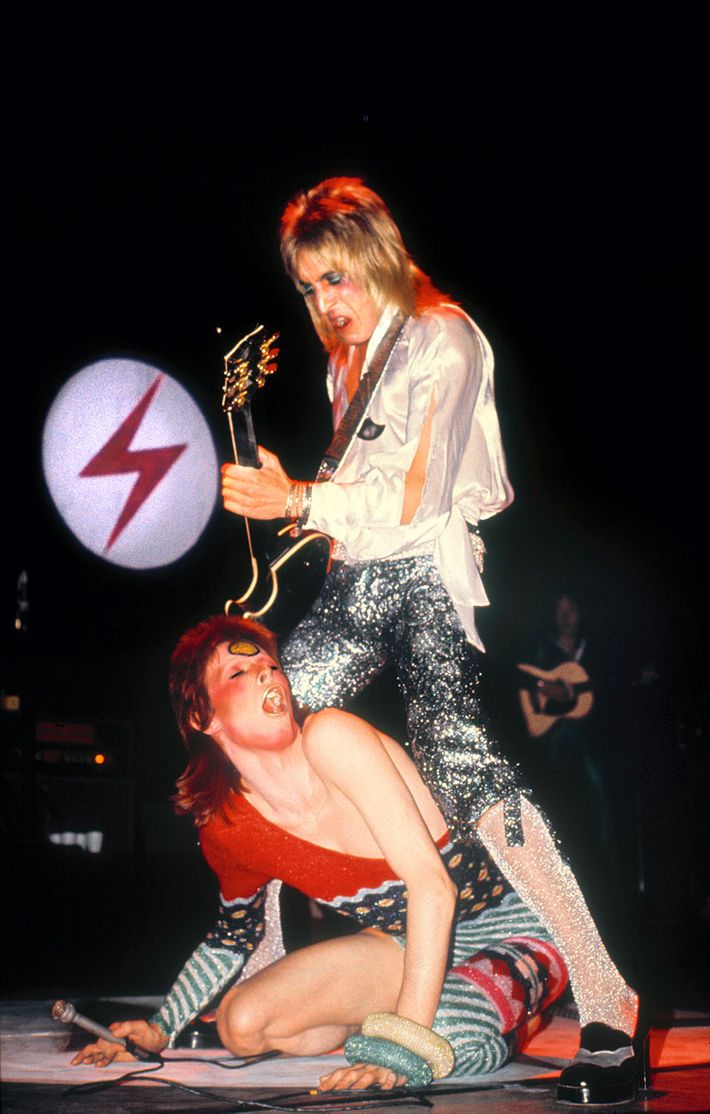 Earls Court, London, 12 May 1973.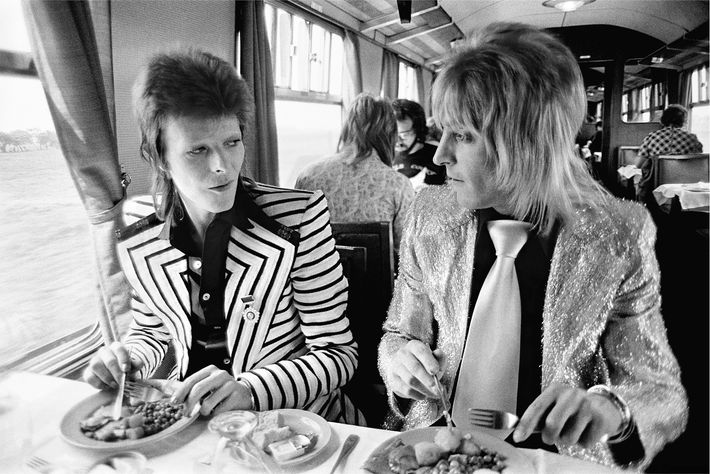 Having a British Rail lunch on the train from London to Aberdeen, 14 May 1973.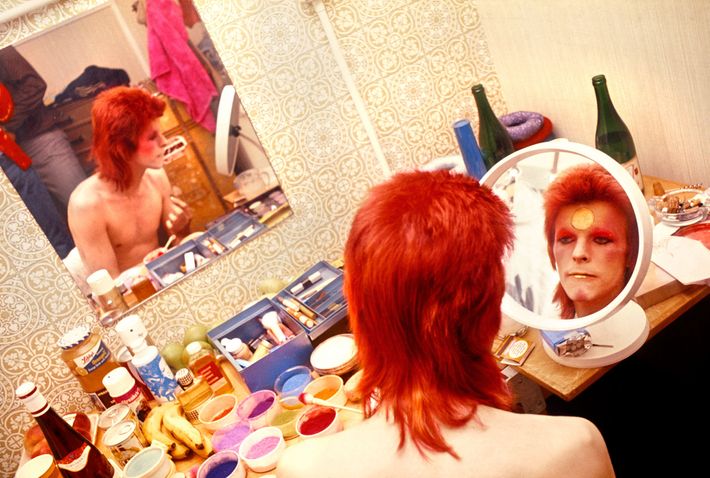 U.K. summer tour, 1973. Bowie usually did his own makeup. Here he's using a special theater palette, which he had brought back from his nine-gig Japanese tour in April 1973.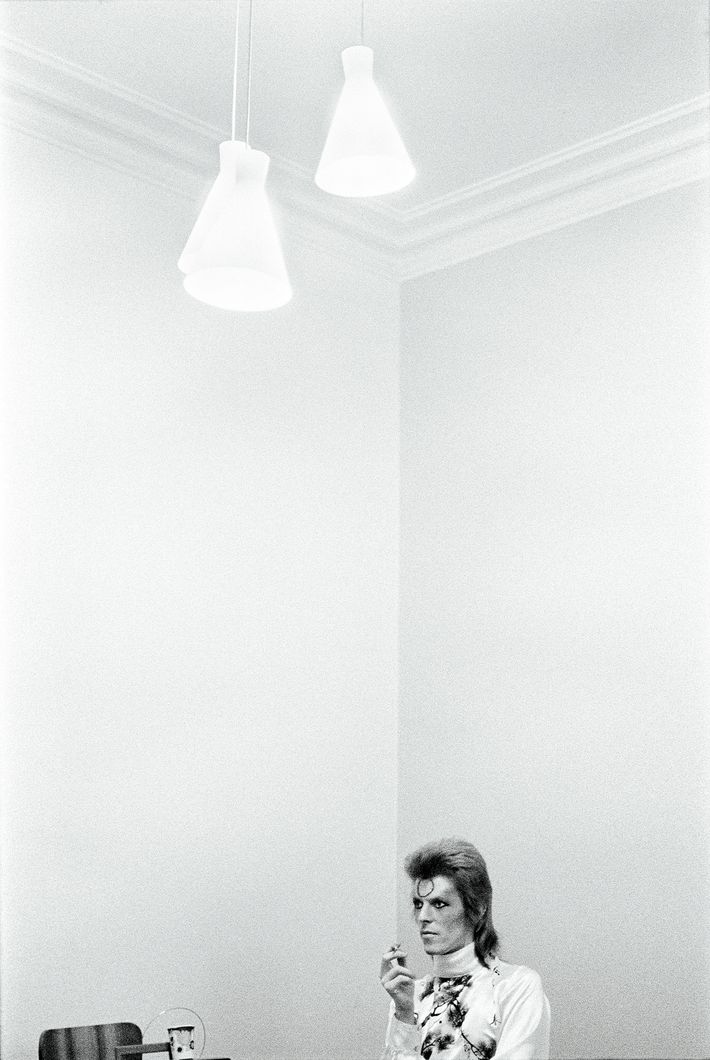 Aberdeen Music Hall, 16 May 1973. Bowie often performed two shows a night on this tour.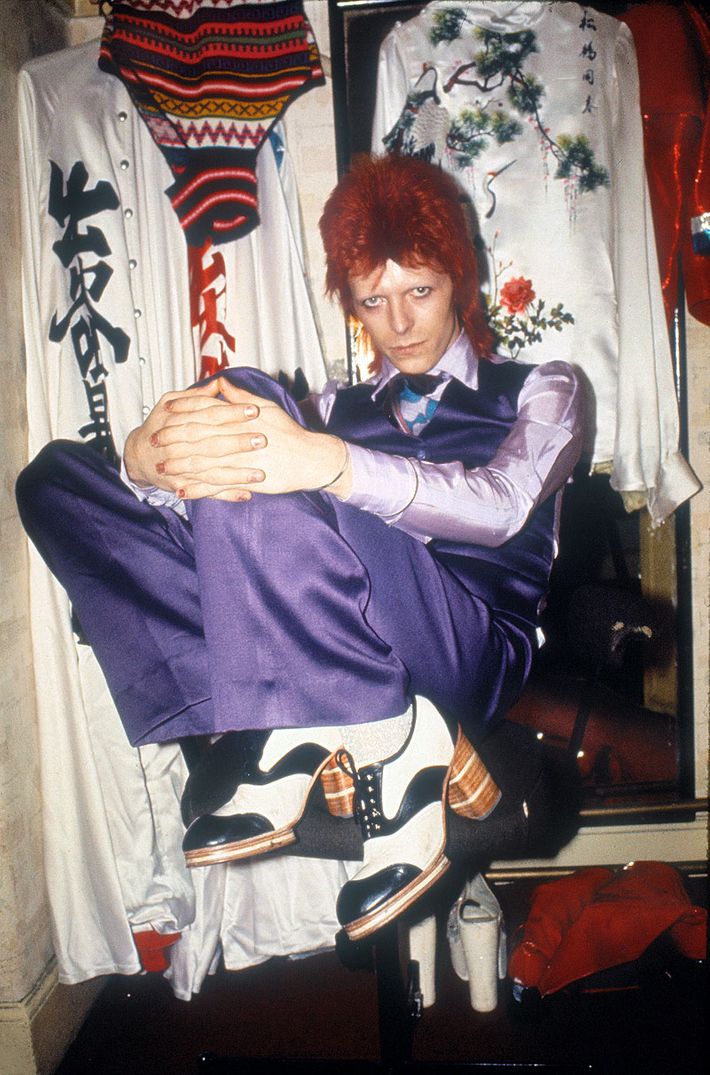 U.K. summer tour, May–July 1973.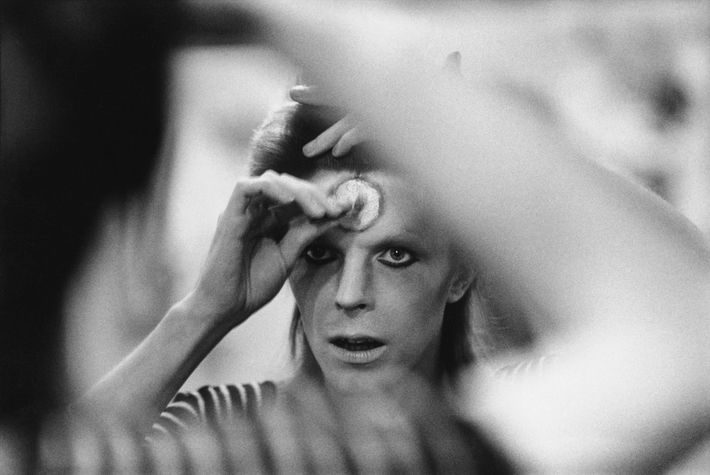 Aberdeen, Scotland, 16 May 1973.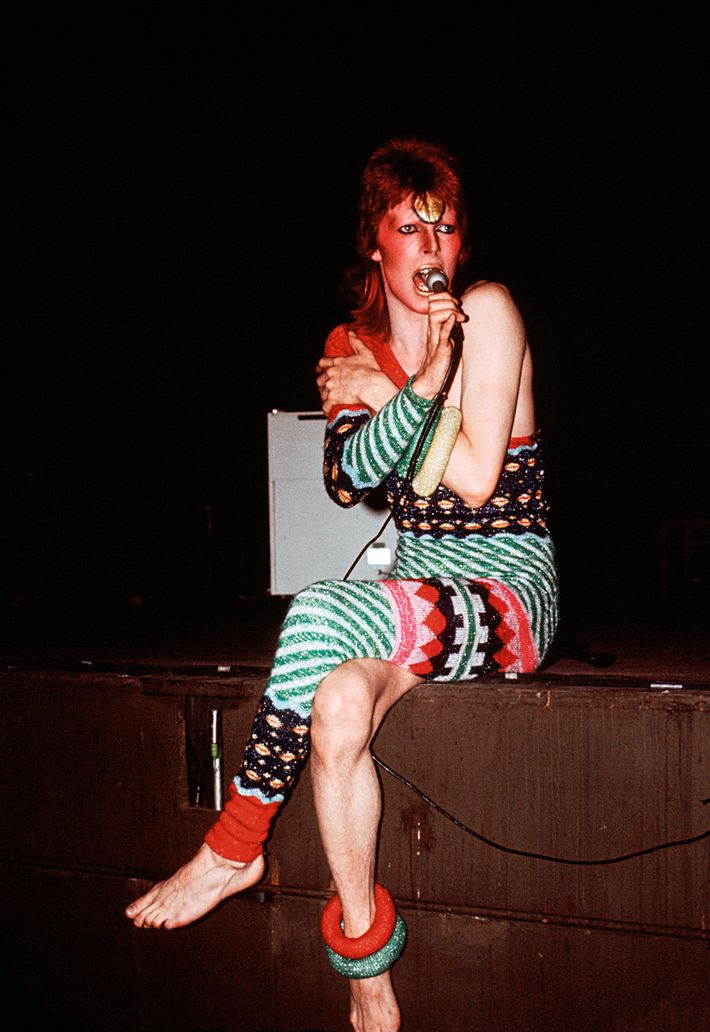 U.K. summer tour, May–July 1973.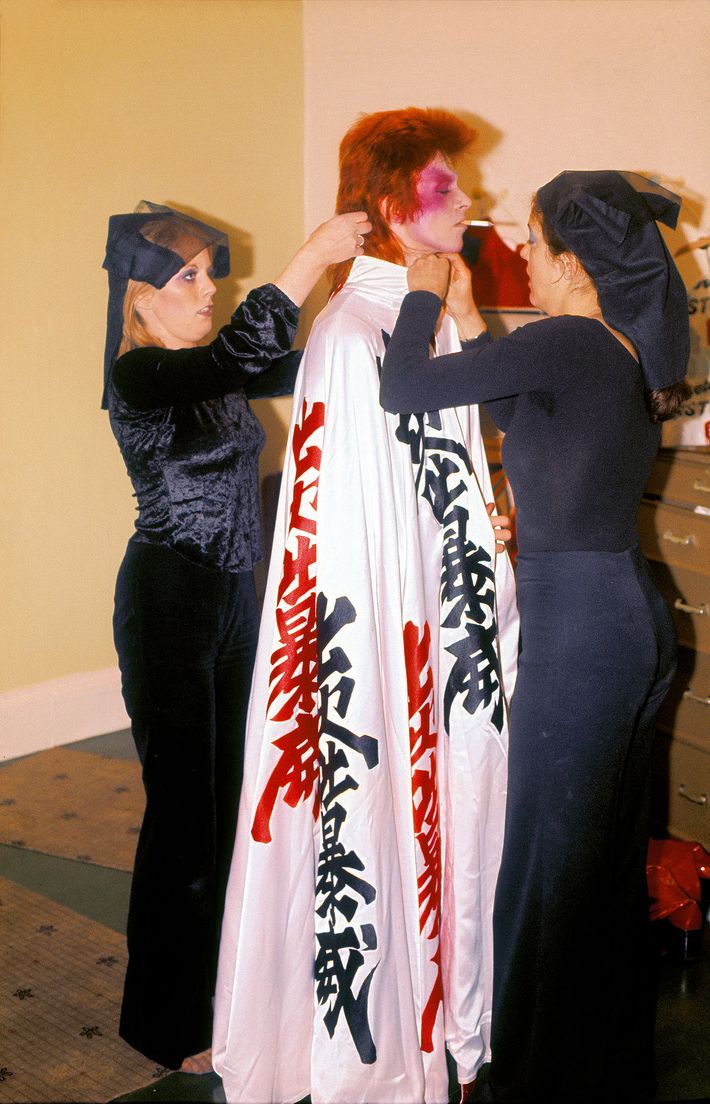 Hammersmith Odeon, London, 3 July 1973.