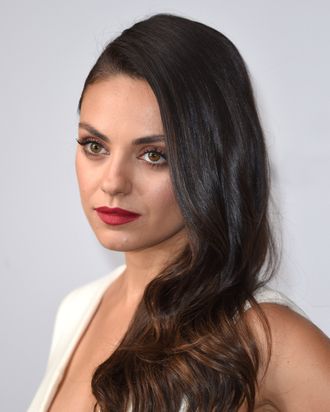 I got you
Photo: Karwai Tang/WireImage
Mila Kunis — she of the wide eyes — only a year ago gave birth to a little girl, a girl that was so-named Wyatt. She and her husband Ashton Kutcher were high school sweethearts, if you remember, and they spent a lot of time with Wilmer Valderrama, and their reignited romance stole the hearts of the American people when they got back together in 2011. True love is real, we all believed again.
But true death is also real, and should Wyatt (1 year old as of September 30) need an accomplice in a murder, mother Mila would stop at nothing to protect her. At a Jim Beam event in New York City on Tuesday, Kunis willfully confessed to covering up a murder before it had even happened.
"I think if she killed someone, I would literally be like, 'I got it. Where do you want me to help you bury the body?' I wouldn't even question it." Kunis affirms that she can't say the same for anyone else in her life, so Ashton better be careful with his bloodthirsty need to kill.
Someone please keep an eye on Mila Kunis and her murderous baby.