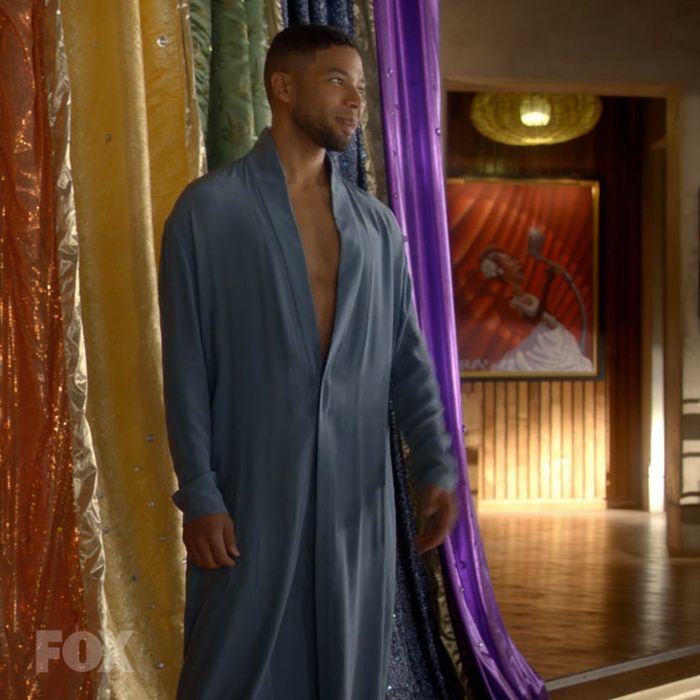 Jamal Lyon is starting his own caftan empire.
Caftans, and the ability to wear caftans, have always seemed to be an exclusive perk of womanhood. A uniform for all-ladies desert retreats. A garment that allows an adult woman to eat an entire Domino's pizza in one sitting and still look chic. A staple of the Chardonnay-drinking divorcée. However, last night's episode of Empire convinced me that more men should really embrace the caftan as casual daywear.
Behold beautiful Jamal, posing in a baby-blue silk caftan. The V is deeper than any V I have ever seen. The caftan flows as he flows, floats as he floats. It's loosely fastened so that with one small flick of the wrist, he can wear his caftan open and free. Except he will never need to. For in this garment, he is as free as a man can be.

Men, in your caftan you will resemble a prince or a wizard, two very good things. You will cease to have a dadbod, and instead you will have a caftan bod, which is ultimately less annoying. Take Jamal's lead and soon you and a caftaned lover may spend your days swathed in matching silk caftans, eating Brie — as a single poly-caftan blob where you can't tell where one silk swath ends and the other begins. Men. This bliss can be yours.