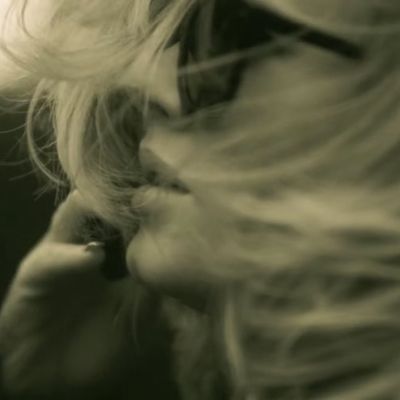 "Hello this is Adele, coming to ruin your Friday."
I hear that Adele dropped a new song, "Hello," last night. I saw all the tweets when I woke up, and I confess: I was tempted. I hear she uses a flip phone in the video and that interests me greatly. I opened my eyes this lovely morning, and read several texts and Gchats — "Have you listened to the new Adele, ohmigod. Gutted," and "Girl, listen to that new Adele, it will destroy your heart," and just "Adele, coffin emoji" — and then I decided to sit this one out.
I  know. Adele. When she opens her mouth, honey-coated muses come pouring out. She has an uncanny way of taking all of our collective romantic anguish and singing it back to us so that we may reflect, relive, and then rip out our own hearts and hold them up to her, sobbing and bleeding. Waking up to "Hello" was the aural equivalent of waking up to a break-up text.
I was once like you, all of you who have watched the video 400 times today and then sat in a puddle of your own gray sadness. In 2008, I downloaded 21 and prayed I could make someone love me as I listened to "Make You Feel My Love." And then when I realized I could not, I binge-ate Celeste pizzas, singing along to "Chasing Pavements" through my heaving sobs. After a horrific break-up in 2011, I would listen to "Someone Like You" over and over again, in a little ball on my shower floor. Every time I hear these songs now, I relive my break-ups and I want to die all over again. In fact, I'm getting upset just thinking about her mournfully belting lyrics like, "for me it isn't over." It's never over, is it, Adele? Is it?
But not today. Not today! Not today. Today is a Friday. It's a lovely day. The pinnacle of autumnal bliss. Sixty degrees. Clear. Crisp. I've got big plans for the weekend. I have a blow-out appointment, Tinder dates lined up, some pizza to eat, some weed to get delivered. Air in my lungs, blood in my veins, a non-Adele song in my heart. I'm good.
I choose not to listen to "Hello," because I choose joy. But perhaps we can revisit this on Sunday.