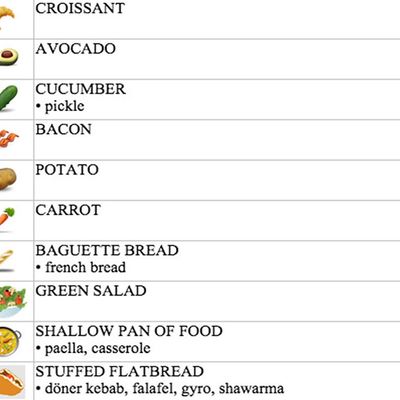 The mysterious Emoji Overlords (the Unicode Technical Committee) has released mock-ups of all 67 new emoji that potentially could be included in the next release.
There's a wealth of images in our nonverbal future (goth hearts, fist bumps), but perhaps most notable is the increase in phallic-shaped food emoji. That's right, pervs, soon we'll have five new ways to express the D in text message. Soon a dick could be represented by a carrot, a bumpy cucumber, a hefty baguette (if you're lucky), a potato (if you're not), or a croissant (we're not judging).
For those looking for vag, there is a taco, a pita, and the classic tulip. They need to get on that.
Will any of the dick options actually surpass the eggplant as the best way to express a peen? We'll have to wait until June 2016 to find out, but here's hoping all of us get to use that baguette a lot in the future.