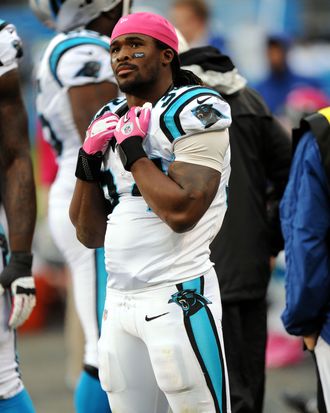 DeAngelo Williams.
Photo: Don Kelly/Corbis
DeAngelo Williams, a running back for the Pittsburgh Steelers, has seen some hardship in his short 32 years. After losing four of his aunts to breast cancer, his mother, Sandra Hill, died last year after suffering from the same disease. In an effort to bring awareness to the cause, Williams requested of the NFL that he be able to wear pink wristbands or shoes after October (Breast-Cancer Awareness Month) ends.
The whole league wears pink wristbands, shoes, and boots during October, but that ends on the 31st, according to NFL rules. Troy Vincent, the league's vice-president, told Williams over the phone that wearing pink does not fit with NFL uniform regulation policy. After hearing this, Williams explained to ESPN's Lisa Salters, "It's not just about October for me; it's not just a month, it's a lifestyle. It's about getting women to recognize to get tested."
Williams consistently sports pink hair and even starred in a commercial for the NFL that pushed their branded awareness month. Last year he even painted his toenails pink in tribute.




The league's position has not slowed Williams's dedication to the cause, though — and he puts his money where his pink is. While the NFL is keen on exploiting the breast-cancer cause for only one month, Williams will keep his hair dyed pink all season, and, as a way to honor the life of his mother, will pay for 53 women to get mammograms in Pittsburgh and Charlotte, North Carolina.