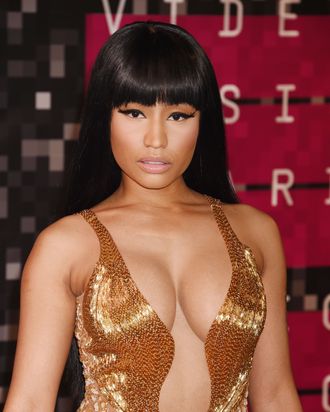 Nicki Minaj.
Photo: Jeffrey Mayer/Getty Images
Nicki Minaj is the latest cover star for The New York Times Magazine, her first big moment since some major appearances at various fashion weeks and her epic Miley smackdown at the VMAs. The piece, titled "The Passion of Nicki Minaj," solidifies her rep as a lady with strong opinions and a low tolerance for playing games. So when the reporter poses an ill-informed query to Minaj — as she pads around her hotel room in diamond earrings — things don't go well.
Minaj makes it clear that she wants any conflict amongst Drake, Meek, Lil Wayne, and Cash Money label co-founder Bryan Williams to end already, saying, ''It doesn't make me feel good. You don't ever want to choose sides between people you love. It's ridiculous. I just want it to be over.''
Writer Vanessa Grigoriadis presses on, though, asking Minaj if there is "a part of you that thrives on drama, or is it no, just pain and unpleasantness —" and Minaj retorts that the question is "disrespectful," asking, ''Why would a grown-ass woman thrive off drama? What do the four men you just named have to do with me thriving off drama?''
As Grigoriadis tries to apologize, Nicki shuts it all down, telling her she was "rude" and a "troublemaker," and finally ending the entire interview with "I don't care to speak to you anymore."
Just another day in the life of the world's most inspiring boss.