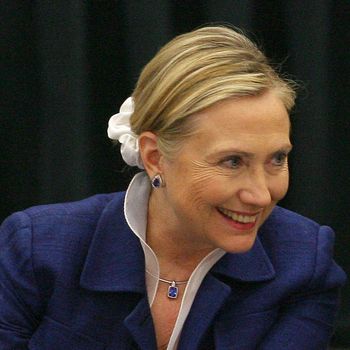 Hillary Clinton and her scrunchie.
Photo: PETRAS MALUKAS/AFP/Getty Images
What a time to be alive. Fresh off the heels of her Katy Perry endorsement, Hillary Clinton can now say she's the muse behind a new line of hair accessories. Two super-fans developed "Hillary Scrunchies" — a duo of poofy hair elastics decorated in images that showcase the many hairstyles worn by the former Secretary of State. The scrunchies, which are available in white and navy blue, are listed as "100% cotton, 100% feminist," and will set you back a cool $10.99.
The eureka moment for the line came when entrepreneur Meredith Fineman realized she couldn't picture herself wearing any of Hillary's campaign-approved merchandise. When she married her appreciation for the practicality of the scrunchie and her desire to launch a feminist brand, Hillary Scrunchies was born. Hillary won't be the brand's only face for long though — a mystery set of Michelle Obama–inspired products are expected to launch soon.