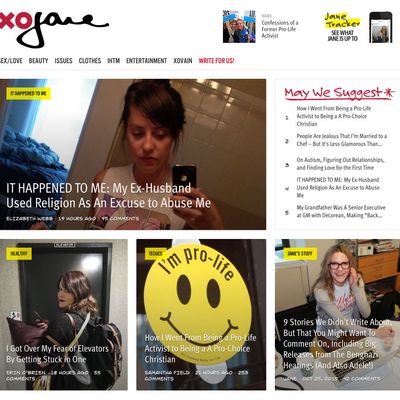 Last week, the news arrived that Time Inc. had purchased Zooey Deschanel's bubblegum-flavored site for women, HelloGiggles. The terms of the deal were not disclosed, but sources say that it could end up being worth $30 million if targets are met. Sophia Rivka Rossi, the site's chief executive, said that the site had always wanted to produce video and expand into TV and film, and now they finally have the seemingly limitless resources to do so. And then, Monday evening, we learned that Time Inc. had also acquired Jane Pratt's xoJane and xoVain, sites that appeal to a different kind of woman reader online, one who is perhaps a little edgier and a little more brassy. Again, the terms of the purchase weren't revealed — but both deals signal smart investments from a print company looking to claim not just a bigger slice of the digital-media pie, but one built and bolstered by women's web-based voices.
Meanwhile, Lenny Letter — the millennial feminist newsletter founded by Lena Dunham — announced that they'd be teaming with Hearst Magazines to bring advertising into their spaces (both online and in email inboxes). Stories from Lenny Letter have already been appearing on Elle's site, and now there's the potential for them to be republished on platforms like Cosmo, Esquire, and Marie Claire, leaving no place left untouched by the Dunham empire. Feminism is currently a big sell, and it looks like it's starting to yield rewards — monetary and otherwise.
Print might not be long for this world, as even old-media giants have to admit — but women's issues are always relevant.