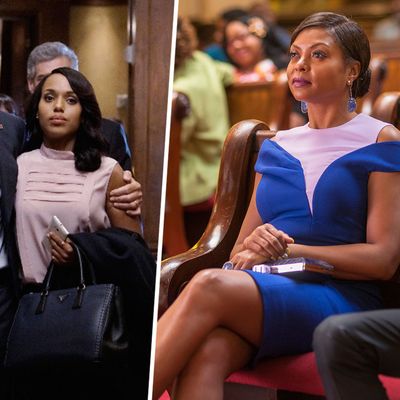 This week, Empire's Cookie Lyon and Scandal's Olivia Pope both dressed down — but for very different reasons. Faced with a violent extortion plot, a hunky potential love interest, and more scheming from Lucious, who thinks stripper poles are appropriate for the workplace, Cookie pivoted from last week's in-your-face looks to a series of more practical and, dare I say, safe ensembles.
As for Olivia, she finally left her apartment to use her crisis-management skills on herself, albeit with an assist from screechy campaign consultant Leo Bergen. He advised her to Kondo her closet and hightail it to the mall for a more relatable wardrobe, which meant she was wearing Target and Gap this episode.
So at least it's a level playing field! Read on for this week's Style Smackdown. (Still catching up on this season? You can find all our recaps here.)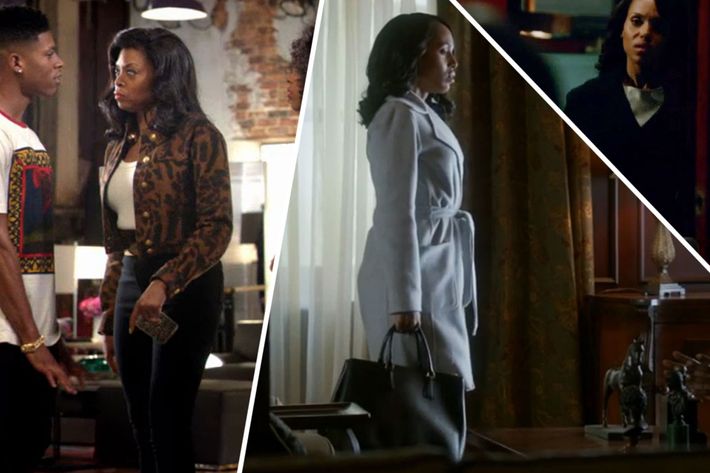 Round 1: Battle of the Jackets
Cookie's been cutting back on her animal prints — no more of season one's now-iconic head-to-toe leopard look, which you'll be seeing a lot of on October 31. But you can't make a leopard change her spots, so for an eventful day at the Lyon Dynasty HQ, Cookie opted for a vintage animal-print Versace jacket from spring '92. She counterbalanced it with a minimalist white tank and black trousers.
Meanwhile, power-dressing, Seamless-ordering Olivia is forced to forgo her designer outerwear for mall basics like a parka from Target and printed wrap scarves from Nordstrom. But she did manage to sneak in some of her signature designer outerwear for two surreptitious visits: a white Max Mara coat for asking ex-fiancé Edison for help, and a woolly green military one for visiting David Rosen after she learns that the impeachment committee has incriminating evidence against Fitz. These are sartorial security blankets, and we're glad she's able to swaddle herself in them.
Winner: While Cookie earns high marks for her throwback Versace, Olivia gains the upper hand with not one but two luxurious layering pieces.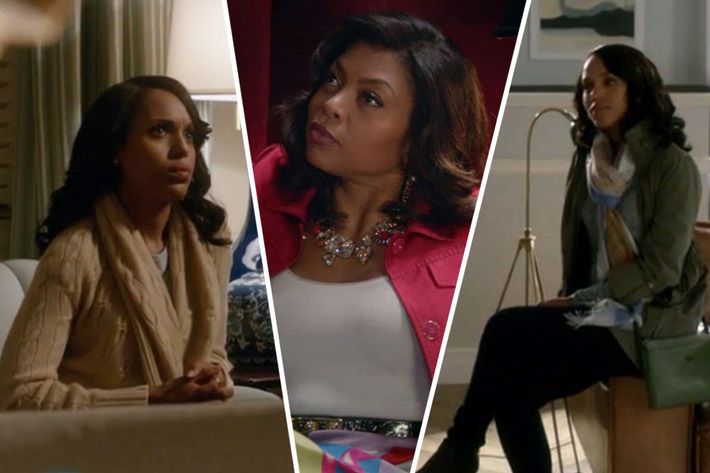 Round 2: Pivotal scenes on the couch
After flirting with dishy concert promoter Laz Delgado, played by Magic Mike's Adam Rodriguez, Cookie heads to the funeral home for a round of "Not It" with Lucious over Vernon's ashes. Her printed asymmetrical skirt — matched with a raspberry jacket — offered an ideal silhouette for showing leg while refusing to make room for Lucious on the sofa.
Like last week, Olivia spent a lot of time in living rooms, but at least this time she moved around to various sitting areas. First, she wore a neutral cable-knit cardi for snuggle time with Fitz while catching up on the latest presidential affair update. Then, the same modest, relatable cardi keeps her warm while she's listening to one of Leo's tantrums after the diamond ring saga blows wide open (thanks, Mellie). Before her jaw-dropping TV interview, Olivia pays a visit to Jake for perspective — and awkwardly meets Elise — in yet another "woman of the people" parka and scarf ensemble, accessorized not with a posh Prada tote, but a laid-back Coach cross-body.
Winner: While Olivia has more outfits (and pulls off a repeat) in this round, I have to give it to Cookie for lively color play and an inspired arsenal of accessories, including an armful of bangles, a chunky statement necklace, and an exotic snakeskin bag.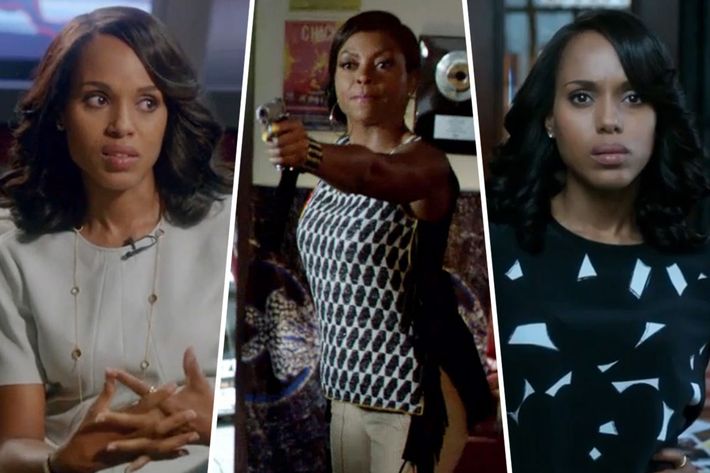 Round 3: Under attack.
While Cookie and Magic Laz enjoy more flirting during an after-hours meeting at the office, they're rudely interrupted by a couple of Thirsty's henchman trying to steal the label's masters. Laz tries using his brute strength to confront a robber, but Cookie gets right to the point and pulls out a dainty gun. Turns out that her khaki Gucci leather track pants — coordinated with a fringed ikat Derek Lam top and Jimmy Choo blocked mules — were designed with pockets roomy enough to pack some heat.
This time around, Olivia more than makes up for the last couple episodes with her sheer number of outfit changes. Of course, she's been shopping at a budget-friendly places, so she can buy more. While planning her counter-attack against the media, the public, and the impeachment committee, Liv wears her go-to black-and-white palette: a pleated shell top for publicly dining with Fitz, a more rarified graphic printed piece in the office situation room, and finally, during her televised interview to discuss the ring debacle, a conservative short-sleeve paneled top and trousers, accented with a classic gold necklace.
Winner: This round goes to Cookie for seamlessly meshing practicality — is that a gun in your pocket, or are you happy to see me? — with playful details like fringe, a flattering side bun, and ginormous gold hoop earrings. Although the hoops are from the also-relatable Bebe, which Olivia might have visited at the mall.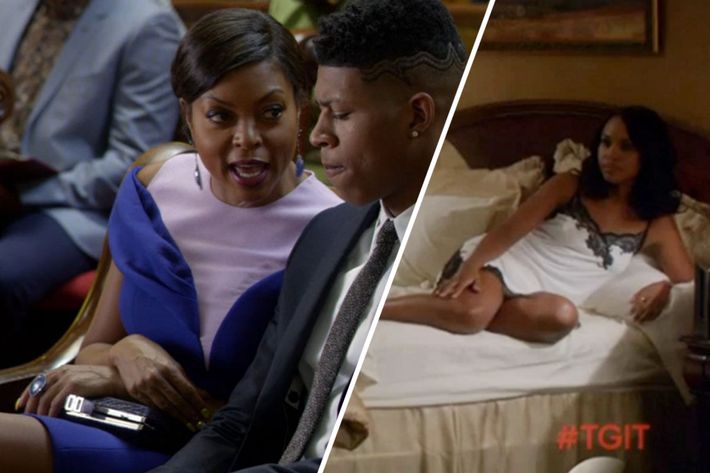 Round 4: The hero look
These days, fashion people keep throwing around the term "hero piece," meaning the one standout look from a designer's collection. While it's a bit hyperbolic, the buzzphrase does seem apropos for our leading ladies in this style smackdown. Cookie attends Andre's baptism, where she beams at her baby bear sons and waits to see if the Great Satan Lucious will actually step foot in the church (spoiler: he does, but leaves early). She looks flawless in a downright heroic white and cobalt cut-out-shoulder dress by Christian Dior, expertly accessorized with diamond and Tanzanite earrings and a ring by Kimberly McDonald.
In the White House, Olivia dons a sultry black and white negligee for a strategic non-seduction scenario — pretending to initiate some nookie with the POTUS so that she can warn him that the real reason behind the West Angola invasion might be exposed. But who cares when Liv's rolling around in a hot little nightie?
Winner: Cookie looked divine, but then there's Olivia in lingerie. Done.
This Week's Champion: It's a tie, and rightfully so. Olivia and Cookie both stood their ground to protect their loved ones and keep what they've earned. Olivia had to make some sartorial sacrifices to manage her own public image, preserve her business, and try to save Fitz from impeachment and possibly prison. But whether it's a designer coat or fast fashion parka, she wore it with class. And though Cookie seemed to pay less attention to her wardrobe this episode, it paid off: She was able to focus on mediating amongst her sons and brace herself for more threats against Lyon Dynasty, courtesy of Thirsty and a violent masked shakedown syndicate.
Considering Hakeem's kidnapping (WHY OH WHY?) and hints of a Cyrus-encouraged quickie wedding, we're expecting some bombshells next week — and major wardrobe developments to match.