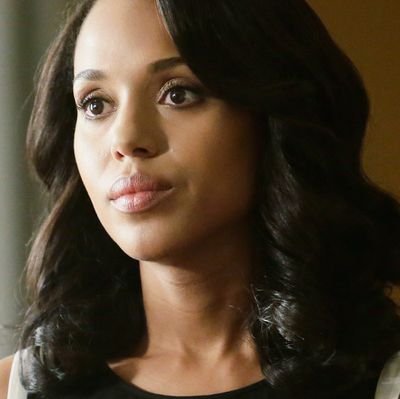 There weren't many notable outfits on Scandal and Empire this week — our heroines were too busy dealing with the fallout of some major life decisions. But the four instances of sartorial splendor were enough to put together another drag-out bare-knuckle fashion fight. Read on to see who emerged victorious: Cookie Lyon channeling Mr. T, or Olivia Pope in her couture outerwear. (If you're an episode behind, you can find last week's Smackdown here.)
Round 1: Black and White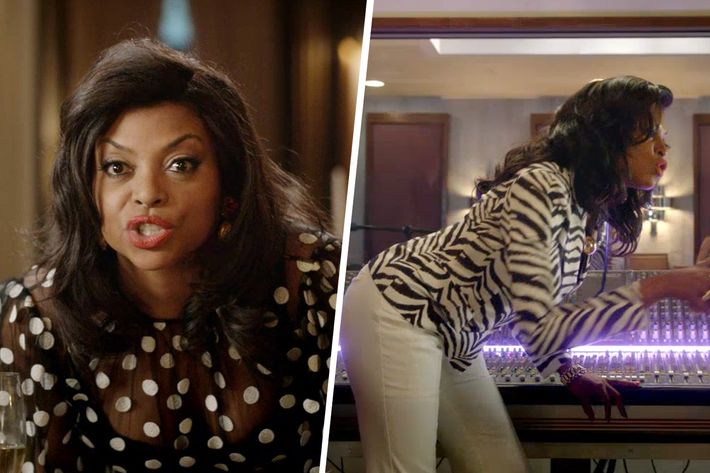 Now that Lucious is out of jail and Cookie is out of the family business, it's time for a cozy Lyon clan dinner. Lucious offers a truce: If Cookie gives up Lyon Dynasty, her new record label, he will welcome her back into the bosom of Empire. Cookie, in a polka-dot top, rejects this offer by saying that she doesn't have to be at his table to eat well — and dragging the entire dinner off the table as she exits. (Love the intensity, but would a woman who spent over a decade in prison waste all that good food? I don't think so.) In the next scene, she changes into a zebra blazer and white pants with gold Versace jewelry. No mere dinner-party drama is going to keep this woman down.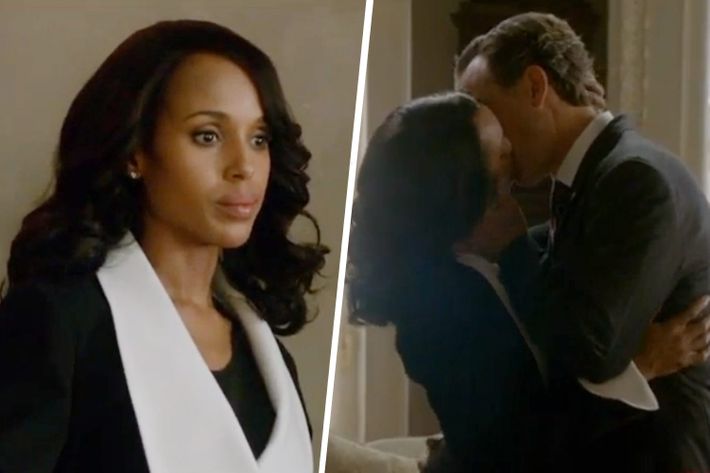 On Scandal, Olivia has just admitted to being the president's mistress, and we're still freaking out. But because she is a white-hat fixer who can literally do anything, she works a fashion miracle and appears at the White House in a Christian Dior coat, complete with asymmetric white contrast cuffs and large lapels. Oh, and she gets her man! For now at least.
Winner: That coat not only won this round, it also won the Oscars, the Super Bowl, and the 2016 Olympics.
Round 2: Making an Entrance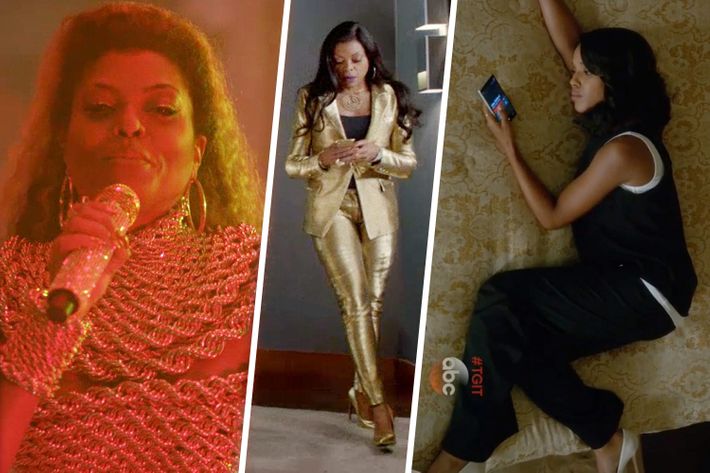 Most people would say that they would want to dress like Olivia by day and Cookie by night. But surely Cookie gets some credit for making an entrance regardless of whether or not the sun's out. She interrupted Lucious's welcome-home party in another A-team-inspired outfit: gold braided Cleopatra necklace and bodysuit with black tights. And for her business meeting the next morning, she changed into a gold-lamé blazer with matching pants, shoes, and jewelry. Don't you just want to watch her shop?
Meanwhile, Olivia spent some time contemplating her life while we contemplated what was underneath that coat. Unfortunately, it was underwhelming, if classy: a black top with contrast white sleeves, black pants, and white pumps.
Winner: Cookie might have been over-the-top, but we'll give her an A for effort.
This Week's Champion
Without the jacket, Olivia looks like she is attending a very chic funeral — which is ironic, since her social life and career are dying right before her eyes. As for Cookie, her wardrobe is projecting a level of success she has yet to achieve. Hate to say it, but this week is a draw.