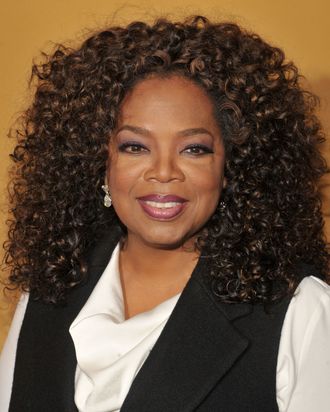 Oprah Winfrey.
Photo: Joe Stevens/Retna Ltd/Corbis
The consummate fairy godmother, her highness Oprah Winfrey, has decided to contribute her shining visage to something outside of a magazine already plastered with her own face and name. In a statement on Monday, it was announced that the big O has invested $43.2 million in Weight Watchers, Inc., giving the company the rights to her name, image, likeness, and wholesale endorsement. Does this mean we have to start eating right now?
On the weight-management company's website, Winfrey's face is now the first thing you see, along with an unintimidating call to arms from the woman herself. "I'm ready. Are you?" she asks, and we quiver in fear.
"Weight Watchers has given me the tools to begin to make the lasting shift that I and so many of us who are struggling with weight have longed for," Winfrey said in a statement. "I believe in the program so much I decided to invest in the company and partner in its evolution." And just as you'd expect from the savvy businesswoman, her endorsement does not merely grant her a free membership and a box of Splenda. No, no. The queen is now a WW member, board member, adviser, and part owner of the company, and with her backing, stock has soared 37 percent since the announcement.
It seems so long ago that Beyoncé went vegan.