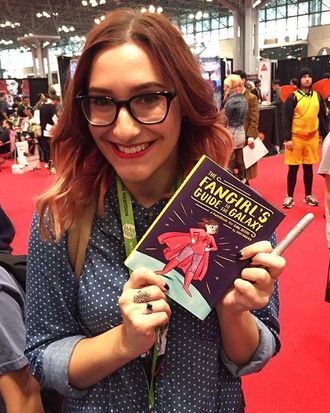 Photo: Sam Maggs/Instagram
New York City Comic Con hosted a panel on Saturday entitled Women in Geek Media – the Sequel! featuring five women currently working in that incredibly (whiny) male-dominated field. As the title suggests, the same panel had been hosted the year before and was brought back due to immense popularity because — surprise — men and women care about what women have to say in the comic and fandom industry.
Alisha Grauso, editor-in-chief of Moviepilot.com, a popular website dedicated to constructive writing about movies, was the panel moderator *. She began by asking the panelists how they became involved in a career in geek media. The answers varied, but the ideal recipe seems to be a little geekiness, some fanfiction stories, a handful of Twitter, and tons of hard work.
Sam Maggs, author of The Fangirl's Guide to the Galaxy and a writer for Themarysue.com, credited her entire career to Twitter and hard work.
"I was just unapologetic and shameless about promoting myself on twitter. I'm a very big proponent of social media and putting your work online and putting yourself out there and connecting with people," Maggs said. "Twitter is how I got every single job in this industry."
Magg's literary agent for The Fangirl's Guide to the Galaxy found her through her Twitter account.
Jamie Broadnax, founder and creator of Blackgirlnerds.com, said that her career really began on Yahoo Answers.
"I noticed when I was on the web that there wasn't really any spaces for geeks of color. One day I went on Google, it was 2 a.m. in the morning and I typed in the term 'black girl nerds' on Twitter and nothing came up on Google. Black nerds came up, black girls came up, but the term didn't. When I was going through the searches and just kept clicking on and clicking on to the find the relevant searches and on the Yahoo Answers site — you know someone randomly asks questions and then random people answer — someone asked the question: Do black girl nerds exist?"
That very night Broadnax created a blogger account and gave it the name Black Girl Nerds.
For Catrina Dennis, senior editor at Moviepilot.com, writing was always a family affair and her interest really began with fanfiction — co-authored by her father.
"I come from three generations worth of writers. My abuelo came over here and was a published poet, published about three books of poetry. Dad used to write. And when I came to about 12 I started writing fanfiction with my father. And we kind of took off from there and fell into writing. I went into journalism in school, but it didn't really take off until I started coming to cons. I credit conventions with my entire career."
Dennis was recruited by Moviepilot.com after attending comic conventions and writing and interviewing on her own.
Jody Houser's comic and anthology writing career really began with her failure to turn into a superwoman.
"I was a superhero fan before I could even read. I remember being 4 years old and watching reruns of Lynda Carter's Wonder Woman on TV and spinning around trying to turn into Wonder Woman until I almost threw up — and not actually turning into Wonder Woman unfortunately. I knew I wanted to write from a very young age. I started writing fanfic when I was 7 and decided I wanted to write professionally when I was 8. Those two just actually didn't come together until well into adulthood for me."
Even though she still has not been able to turn into Wonder Woman, she was able to land the job for writing the Orphan Black comic for IDW.
Deb Aoki, who writes for Publishers Weekly and is the editor of Mangacomicsmanga.com, said that her success came from having a particular beat.*
"I never went into this thinking I was going to be a comics journalist. I went into this because I love manga. It kind of came out by accident. I've been reading manga all my life. I have a little bit of a journalism background, so I was able to draw upon that," Aoki said. "The manga people are coming to me asking, do you have time to interview this person? Because you're the only one who even covers this shit. I mean, I'm exaggerating, there's a ton of manga bloggers, but I've got this sandbox pretty much to myself sometimes."
Aoki, who entered the panel late because she was interviewing a Japanese manga editor, likes to refer to herself as "the Manga Chick."
The interests and methods differed among the panelists, but they all agreed that nothing could be accomplished without a little bit of sweat, even if just on your keyboard. Maggs said that though part of it is luck, working hard certainly helps.
"I always like to say the harder you work the luckier you get. I think that's a good way to live. I think there's definitely a certain amount of luck in it, but I think you have to kind of just keep putting yourself out there."
*An earlier version of this post misspelled Alisha Grauso's and Deb Aoki's names. It has also been updated to show that Grauso is the editor-in-chief of Moviepilot.com rather than the founder and editor-in-chief. We regret our errors.