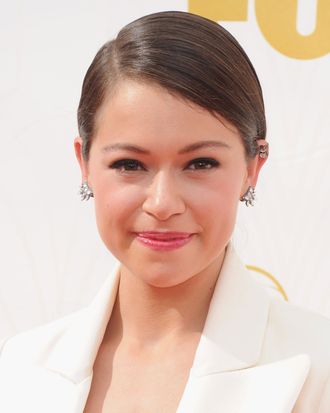 Tatiana Maslany.
Photo: Jon Kopaloff/FilmMagic
There's a lot of girl power on Orphan Black, which is something star Tatiana Maslany isn't afraid to express off-screen just as much as she does while playing something like six — and counting — recurring kickass clone characters. "It's funny how many people who have been like, 'Wow, you're vocal about [sexism].' But aren't we all? Like, don't we always feel it? Don't we all experience it every day?" Maslany said on the red carpet prior to Orphan Black's panel at PaleyFest Sunday. "It doesn't feel like a new concept to me. And the fact that we're, like, talking about it now, it's not remarkable to me that light is being shed on it. It's intrinsic in the structure of the industry and in so many industries."
Though clearly sexism is nothing new, Jennifer Lawrence's essay on Hollywood's gender wage gap published in Lenny last week was the latest to revive the topic as it relates to show business. Maslany said she had not yet read Lawrence's essay (she's "excited" to, though), but she agreed that women do get cast in a negative light when they raise concerns over issues relating to sexism. "I think, of course, people are going to be upset that we're talking about it," Maslany said. "It's not positive. It's not sunny and light, like girls are supposed to be. The fact that that's the response is exactly what the problem is."
However, encountering backlash just makes Maslany want to speak her mind even more. "Every day I feel motivated to talk about [sexism]. It's something I feel passionate [about] in my bones just from having lived it," Maslany explained. "I would be so upset if people stopped talking about it if people were uncomfortable with it. To me, that's just patriarchy. That is the system we're railing against, the one that tells us to be quiet, the one that tells us to be [palatable], smiley, lovely, perfect, no mistakes, no opinions. That's exactly what the problem is."
The fight for women's rights against major forces of repression is a topic that's near and dear to Orphan Black, of course. Born out of a series of experiments, the clones portrayed by Maslany are constantly on the run from various high-powered organizations seeking to use their DNA for nefarious purposes. "I think what our show is subtly talking about is autonomy and ownership over your story and ownership over your life and your worldview," Maslany said.
Orphan Black has also received praise for the complexity of its female characters, which is something Maslany values most about the show. "All the clones can be reprehensible at the same time as they can be noble and at the same time as they can be funny and dark and, you know, murderers and saints. That's what I love about the show, we don't vilify anyone," said Maslany, giving Rachel, a clone that has been a major foil to her "sisters" throughout the series, as an example of a character who isn't definitively labeled evil. "We show her as one thing, and then we go, Yeah, but who is the real person underneath who's in pain? That's what makes me so proud about the show."
Since she has to keep all of that in mind, here's hoping Maslany gets paid per clone.