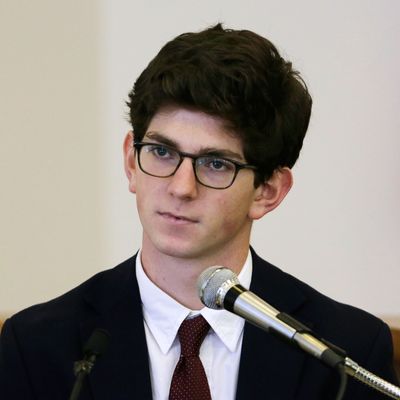 Owen Labrie.
Photo: Charles Krupa/Corbis
Owen Labrie, the 18-year-old former St. Paul's student who was found guilty of felony computer abuse and four misdemeanor charges of sexual assault, was sentenced to one year in jail on Thursday.
"You're going to do a year in the House of Corrections and probation, that's the bottom line," Judge Larry Smukler told Labrie. He said he believed that even though the jury acquitted him of rape charges doesn't mean the sex was consensual. "This was not consensual," Judge Smukler said.
Labrie's victim, who maintains she was raped by Labrie, provided a moving video statement during the sentencing hearing.
That the case even came to trial is a rarity; most states require proof that the victim was physically forced, but New Hampshire, where St. Paul's is based, is one of the few states where the accused can be convicted by proving nonconsent.