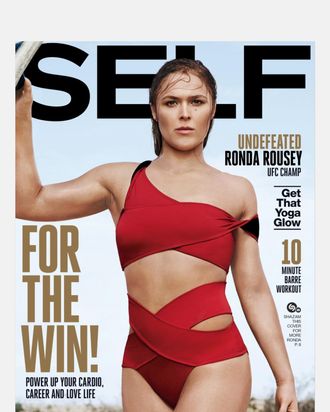 On the cover of this month's Self: the woman with the most envy-inducing confidence, muscles, and DGAF attitude, Ronda Rousey. The least do-nothing-bitch on the earth talks to Chelsea Peretti about her body, her come-up, and what she does in her downtime. When Peretti asks Rousey if she ever got into fights as a teenager, Rousey provides us with this great and somewhat-mystifying anecdote:
Yes. Santa Monica didn't used to be so nice! After school, my friend and I would go to the Promenade, where a lot of shady characters hung out. I loved Frappuccinos, but I only got $5 a day for lunch. If I ate, that meant I didn't have enough money for a Frappuccino. So we would go over to these kids and say, "I bet you $10 I could beat up any one of you." There were always some guys who could use the money. We'd fight and I'd do something to get them to give up, and they'd give us $10 and we'd go get Frappuccinos … That was, like, my side gig for a little while.
Never in my life have I heard of someone going to bat for a Frappuccino, nor described the Santa Monica Promenade as rough, but every day is a new mystery. The fighter seems to be over her sweet-coffee habit, but that doesn't stop her from eating 50 hot wings after a fight. "After my last fight, one of the UFC owners flew in a private chef from São Paulo to Rio de Janeiro so that he could make me hot wings, because there are no hot wings in Rio! That's how important they are to me." Now that is what really living looks like.