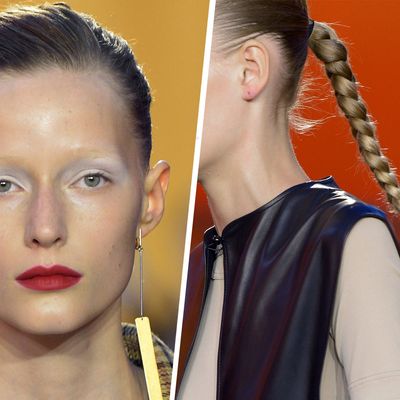 If Céline's beauty look last season celebrated strength in individuality, this season celebrated the strength of femininity. The word strong is tossed around a lot in fashion and beauty. No fashion designer is ever designing for the weak-willed, insecure woman. Sometimes, in beauty, that strength is reflected in a sense of masculinity or sexual power in the looks, but Céline took a much subtler approach.
Sunday morning in Paris, Guido Palau, Redken's creative consultant, told me that the sculpted ponytail braid was inspired by Philo's mood board of strong women such as Sade (see Sade's famous '80s photograph with a red lip) and Nina Simone in the '60s. "Phoebe always has an amazing mood board of women she likes. There were all different women — not that she wanted to replicate their looks exactly. They all had a voice."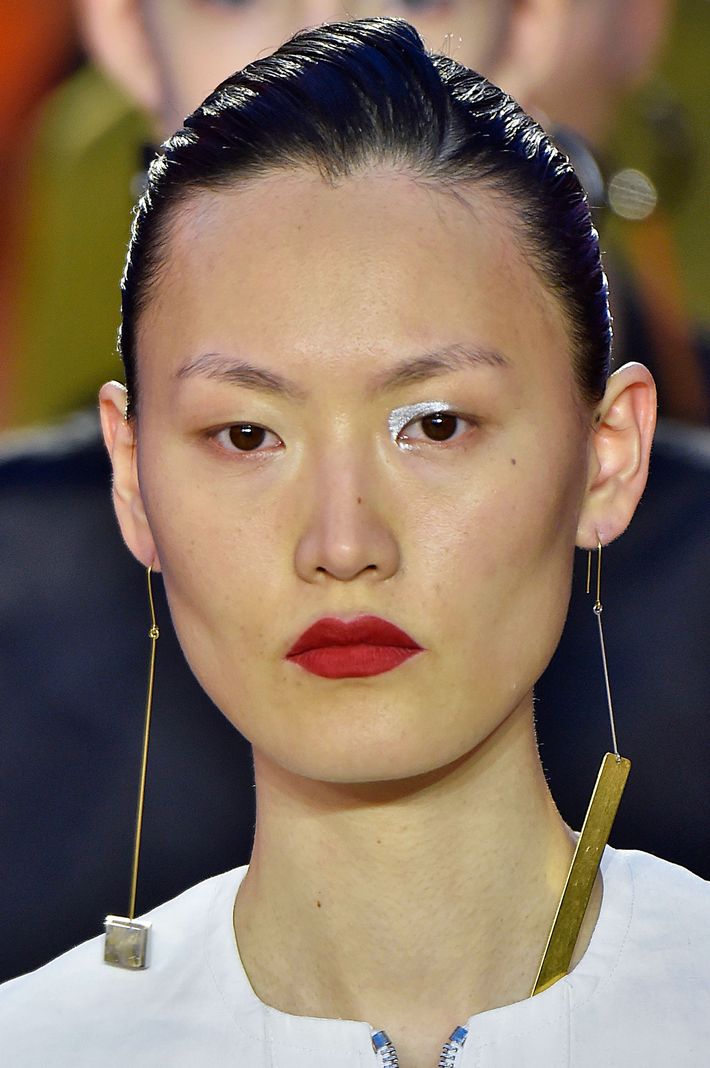 Critics often praise Philo for her thoughtfulness in designing woman-friendly clothing, and that relatability also translates to the beauty. "She directly relates to the beauty aspect for each show. She knows how she would feel to have her hair like that," which is why Philo nixed the idea of hair extensions to create the ponytail braid, even for models with short hair. "She said, 'Sometimes in a photo shoot, they put in extensions and I don't like that.' She doesn't feel like that is how she would like to feel like." For girls with shorter hair, Philo and Palau instead decided to slip the hair into a knot because "that's what [Philo] would do."
Not forgetting individuality this season, Philo and Diane Kendal also came up with three subtly different makeup looks. Although the models were all anchored by a Sade-like matte red lip, some were given a glimpse of silver metallic on the lids, others white-washed lids, and others had thin eyeliner strokes drawn and left open from the bottom and top of each lid. Here's to celebrating a beauty look that shows another way to look and feel strong.