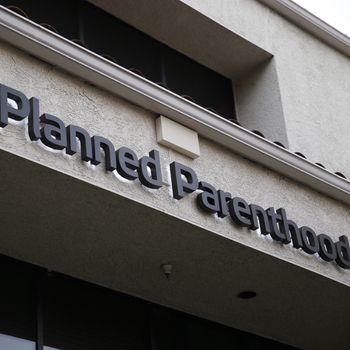 Photo: Al Seib/Los Angeles Times/Getty Images
After three months of attacks following the release of videos that purported to show Planned Parenthood directors discussing the sale of fetal tissue, the organization said today that clinics donating fetal tissue for medical research (which is legal) would no longer accept reimbursement for the transport of said tissue (also legal). Only about half a dozen of its 700 affiliates have such donation programs, but the videos prompted congressional hearings as some Republican lawmakers sought to defund the organization entirely. (Never mind that most of its federal "funding" is actually Medicaid reimbursement for services provided to women who get medical care at Planned Parenthood.)
The group's president, Cecile Richards, said the purpose of the policy change was to remove ammunition from opponents whose goal "has nothing to do with our fetal tissue donation compliance process but is instead to ban abortion in the U.S. and block women from getting any health care from Planned Parenthood." She emphasized that the move doesn't imply any wrongdoing on the part of Planned Parenthood or other women's health clinics with donation programs. As she wrote in a letter to the director of the National Institutes of Health (NIH):
I want to be completely clear about two things: First, Planned Parenthood's policies on fetal tissue donation already exceed the legal requirements. Now we're going even further in order to take away any basis for attacking Planned Parenthood to advance an anti-abortion political agenda. And, second, our decision not to take any reimbursement for expenses should not be interpreted as a suggestion that anyone else should not take reimbursement or that the law in this area isn't strong. Our decision is first and foremost about preserving the ability of our patients to donate tissue, and to expose our opponents' false charges about this limited but important work.
Richards also noted that there is legislation proposed to ban fetal-tissue research and suggested that the NIH develop guidance and recommendations for both Congress and state legislatures. As the Department of Health and Human Services wrote in a letter to Congress in August, fetal tissue is used in research on disorders like Down syndrome, degenerative eye disease, and infectious diseases.