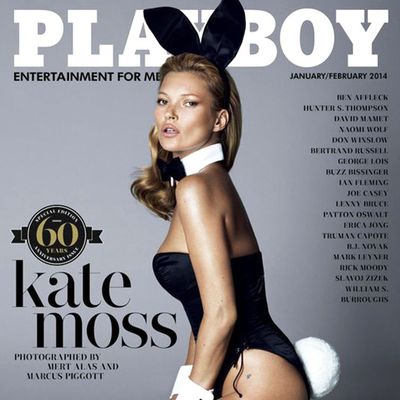 Photo: Mert Marcus for Playboy
Six decades after it helped launch the sexual revolution in America, Playboy is putting some clothes on. The New York Times reports that in March, when the magazine launches its latest redesign, it will stop featuring fully nude women. Scott Flanders, the company's chief executive, acknowledged that Playboy has fallen victim to the movement it started, saying, "You're now one click away from every sex act imaginable for free. And so it's just passé at this juncture."
Playboy's circulation has dropped from 5.6 million in 1975 to about 800,000 today, and the redesign is aimed at capturing more millennials who did not grow up with the magazine stuffed under their mattress. As the old joke implies, Playboy does have a history of producing great journalism, and it will continue publishing interviews, fiction, and investigative pieces. It will also feature more visual artists and a "sex-positive female" columnist. "The difference between us and Vice," Flanders said, "is that we're going after the guy with a job."
The model has already been successful for the magazine. Per the Times:
In August of last year, its website dispensed with nudity. As a result, Playboy executives said, the average age of its reader dropped from 47 to just over 30, and its web traffic jumped to about 16 million from about four million unique users per month.
But the magazine isn't giving up on scantily clad women entirely. Playboy will still have a Playmate of the Month, but the images will be PG-13. So the publication that was once a risqué rite of passage is now hoping to be the magazine young men can leave out when mom comes to visit.