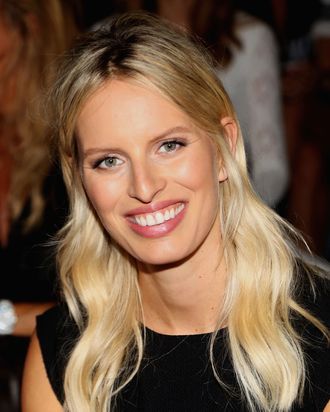 Karolina Kurkova.
Photo: Monica Schipper/Getty Images
At the age of 16, while most of her peers were worried about driving exams and popularity, Karolina Kurkova was navigating the Victoria Secret fashion show catwalk and landing contracts with Yves Saint Laurent and Valentino. Even more lucrative deals followed, and in the midst of her success, Karolina started a family of her own. Now pregnant with her second child, the international supermodel spoke to the Cut about how she stays fit while pregnant, her love of butter in coffee, and why fat is a good thing.
How I start my day: Let's say I'm on my routine and I'm at home (which will change soon very dramatically with my second baby coming), I wake up at 6:45 a.m., roll into the kitchen, and get the hot water boiling for my [5-year-old] son's rooibos tea — he loves rooibos tea with coconut milk and honey. I never really was a big coffee drinker, but now that I'm pregnant, I've started to appreciate coffee. My husband and I do a little bit of the coffee and we put it in the blender with roasted butter and coconut butter. It's so delicious with all of that fat inside. It doesn't have that coffee taste because, again, I'm not a big coffee drinker, but it's really nice and balanced and creamy.
Then I start to make breakfast. My son likes his sunny-side-up eggs; he's very specific, they have to be runny. And then for me I'll separate the yolks from the whites, cook the egg whites, and once they're cooked, I'll put it on a plate and put that raw yolk within the egg whites while they're still hot, so the yolks cook a little but not too much. You're still getting all the good nutrients from the yolk. And then I'll throw in any type of vegetable. I might have some leftover from dinner, or make it fresh. My favorites are leeks, collard greens, and chard, which I sauté together. If I have time, that's kind of my power breakfast. If I don't have time and I need to be quick, I make an amazing smoothie. I throw in a bunch of different things. For example, I like coconut milk with raw spinach, I put some flax seeds, hemp seeds, matcha powder, cocoa, and a few frozen bananas that I always have cut and ready in the freezer. I also throw in probiotics.
How I like to sweat: After I drop my son off at school, I go take a class. When you're pregnant, your body starts to change. I've been really liking barre because it works out your thighs, butt, and your lower back. It just feels good tightening it up and keeping it strong. So I do an hour of that, or sometimes I do core training or weight training. And after that, what I've been doing religiously is rolling out. I use the roller and I roll out my butt, my back, and my thighs. It's kind of a little self-massage. Before my belly was big I did a lot of SoulCycle. But now my belly gets in the way on the bike.
What wellness means to me: Being happy and well-balanced. Really educating yourself about your body and how things work. I'm a huge advocate of telling people that they need to be their own guru. You need to be your own doctor. You need to be your own everything. This body — you can't buy it. It's the most precious thing we have. But also it's important to treat yourself. Instead of starving yourself and then binging and feeling horrible about yourself, why not treat yourself every day?
How wellness has changed for me: Definitely since becoming a mom, food became much more important. I really enjoy cooking for my husband, and my son, and us sitting together. It reminds me of when I was growing up. It just makes me feel good to do that for my family.
How I eat since becoming pregnant: The new thing that I've been introduced to while I've been pregnant is coffee in the morning. That's never really been my thing. Sometimes I do crave red wine. I also love a good raw chocolate. I might have a few pieces in the afternoon when I feel like I need a little pick-me-up. Or I buy organic coconut cream and put it in a blender with frozen bananas. And then I throw in raw cocoa chips and have that as a treat and a dessert. It's delicious, good for you, perfect. And my son loves it too.
My wellness advice is: At the end of the day, why we care about exercise and what we put into our body is because we want to feel good and we want to have a good life! When we feel happy, we are able to inspire other people around us to be happy and we send out good energy. I think people also have this misconception about fat. I think that fat is really good if you eat good fat. Don't be afraid of the fat. It's great for your skin, it's great for your insides.
This interview has been edited and condensed.