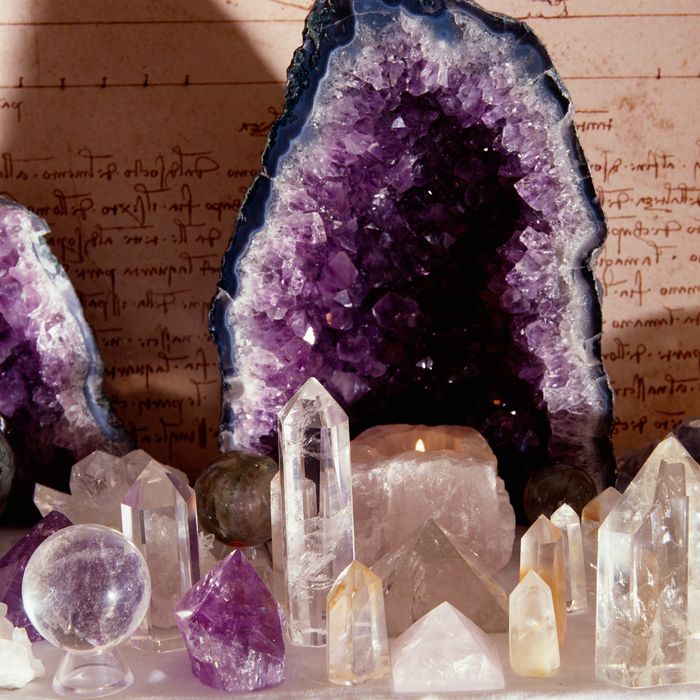 Photo: Alen MacWeeney/Corbis
A few months ago, my friend Jenna, a 20-something vegan who swears by such things as Chinese herbal medicines and manuka honey, asked me if I had heard of Dayle Breault. "Lenny, Zoë, Lisa Bonet — the entire Kravitz family go to her for facials. Do you know if her products are any good?" I did not know, but her email address was easy enough to track down.
There are a few things you should know about Dayle Breault. The first is that she signs off all of her emails with "Goddess" — a nickname she says came about after a client deemed her the "Goddess of Skin Care." It feels weird to refer to her as simply Dayle, so I too, call her "Goddess."
The second thing about Goddess is that she is very Zen. She speaks with the cadence of a yoga instructor and casts an aura of a bohemian auntie: She's a free spirit who could very well be onto something great while we're all dummies, wallowing in backwards think-speak.
Goddess lives in L.A., but she visits New York from time to time to accommodate her East Coast clients. Last week, I went to her downtown apartment to experience one of her infamous facials.
There were three of us at the appointment: me, Goddess, and Dorje, a Chihuahua so chill that I wouldn't have been shocked if I'd been told his dog bowl was full of Xanax. When I slipped under the covers on top of the spa table, the facial began.
First she ran a clear crystal — selenite, she told me — over my body to absorb any negative energy. She included the bottoms of my feet, too, and apologized (so politely!) in case I was extremely ticklish. Then she burned Mayan sage above my face, which smelled slightly sweeter than the grocery-store variety I used last year to cast out the bad juju from my new apartment.
As the apartment took on a smoky cast, Goddess began to administer a lymphatic-drainage massage to my face and chest with a slippery solution. Was that a cookie I smelled? "Zoë loves the scent of my Profound Cleanser," explained the Goddess, cleverly using her supernatural powers for the greater good. "She always says, Add more vanilla!"
I pride myself for taking neurotically good care of my skin, so when Goddess began to preform manual extractions (i.e., pimple popping), it took longer than I'd care to admit (I swear I could only make out exactly one blemish on my face). It was painful. But there was an undeniable feeling of satisfaction when she cranked on the HydraFacial machine and slurped up all of the oil and grit that had settled on my face.
Goddess was so kind when she learned that the following physical exfoliation step, microdermabrasion, was entirely new to me. So instead of feeling like I took a face-plant on the spike racks that prevent you from backing up at the airport rent-a-car lot, I experienced a modicum of discomfort, like a foot file taking gentle laps around my face.
After a slathering of a glycolic-acid serum, Goddess churned on the HydraFacial again, only this time, she tuned the machine to the collagen-building fibroblast setting. Fibroblasts are a particular kind of cell found to plump and heal skin. A tube from the HydraFacial spurted out a viscous serum loaded with the cells, and Goddess gently patted my face to encourage maximum absorption.
As we neared the end of the treatment, Goddess introduced another new-to-me facial component: the bt-Cocktail, short for "Bio Therapeutic." She combined this cocktail, which consists of three "energies," or three serums with varying antioxidant and anti-aging properties, with a nano current treatment (said to mimic the effects of a face-lift) and a Chinese lymphatic-drainage massage that she learned several years ago from a masseuse on her way to Tibet. It went something like this: Goddess would rub an energy serum on my face, roll over my skin with her handheld nano-current device, and then massage my face in sweeping, fluid movements. She asked to continue the massage movements inside of my mouth — "Cara Delevingne loves it!" — but I politely declined.
While I was still slippery with the energy serums on my face, Goddess covered my eyes and positioned a large LED light above me. I could no longer see, but she explained that the lights were running through different color cycles: green to help with any skin discolorations, red to stimulate collagen production, and blue to fight acne bacteria. This continued for about ten minutes, during which a tape of Deepak Chopra ran in the background. He was reciting an alphabet of affirmations, or the letter of the day for grown-ups. "A is for acceptance. B is for believe. C is for compassion …"
When I woke up, Goddess was reciting a chant, a Buddhist one, I believe. She misted my face with her crystal-infused water and slathered on a moisturizer with SPF. I'm hardly an advocate for anything New Age and particularly foo-foo (New York hasn't beaten the Midwest out of me quite yet), but an hour and a half with Goddess was beautiful, relaxing, and refreshing at the same time. My skin appeared to glow, too.
"Next time, let me massage inside of your mouth," said Goddess.