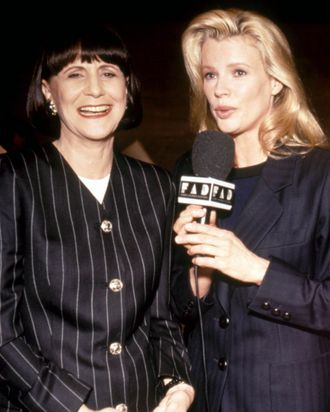 Kim Basinger in Prêt-à-Porter.
Photo: Etienne George/RDA/Getty Images
Top Model is leaving our screens after this season, and the House of Style reboot didn't quite take, but despite that, the fashion TV landscape is looking up. In addition to NBC's upcoming series on '80s supermodels, which counts Cindy Crawford as a producer, WME | IMG announced this morning, via a release, that it has launched a digital fashion network, Made to Measure, that will live on Apple TV. Known as M2M for short, the network will include programs like Tea at the Beatrice, an interview show hosted by Glenn O'Brien (TV Party loyalists, take heart!), and an original film about the legendary Battle of Versailles. Plus, there will be lots of coverage straight from the runways and classic fashion films like Valentino: The Last Emperor and Qui êtes-vous, Polly Maggoo? For anyone who was glued to Elsa Klensch back in the day, this is exciting news.
"M2M will showcase fashion from all angles," said Mark Shapiro, WME | IMG's chief content officer, in a statement. "There are so many incredible stories to tell in this industry, but premium video programming that's authentic, modern, and thought-provoking is still difficult to find. We're excited to use our unique access across WME | IMG to give everyone who loves fashion the opportunity to explore the industry from the inside out." Meanwhile, Apple, which recently launched a Hermès version of its watch, continues to court the world of high fashion, and it sounds like this latest effort is part of that push.