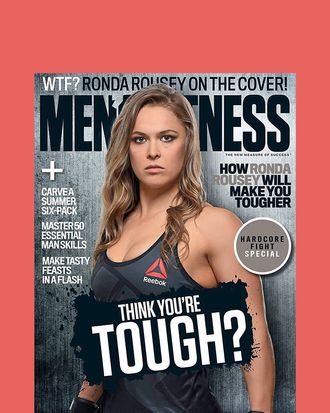 We're not worthy.
Photo: Men's Fitness
If the thought had crossed anyone's mind that Ronda "Never a Do-Nothing Bitch™" Rousey might slow down anytime soon, the UFC Bantamweight champion is here to prove that person very, very wrong.
In advance of Rousey's next big fight, which is taking place in Melbourne, the boss woman is on the cover of Men's Fitness Australia, the first woman to ever appear there. (The accompanying line — "WTF? Ronda Rousey on the cover?" leaves a little to be desired.)
Rousey posted the image to her Instagram on Sunday, captioned appropriately with the arm-flex emoji. While editions of Men's Fitness in other countries have flaunted the likes of Pamela Anderson, Carmen Electra, and Stacy Keibler on their covers, there's no doubt that Rousey could take every former cover star to task — man or woman. Kapow.