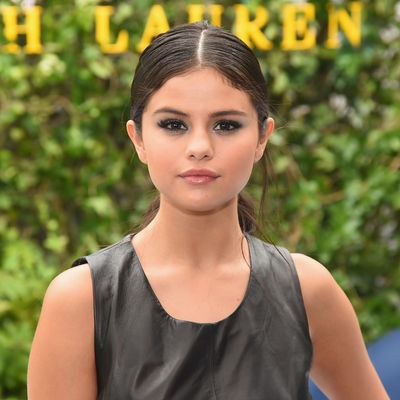 Selena Gomez attends the Polo Ralph Lauren fashion show on September 11, 2015 in New York City.
Photo: Michael Loccisano/Getty Images
Though Selena Gomez's rep said in early 2014 that her brief stint in rehab was "not for substance abuse," she's been dogged by rumors that she's been battling drug addiction — or even Bieber addiction. But in an upcoming Billboard cover story, the 23-year-old says she actually took time off from music because she was battling a serious illness. "I was diagnosed with lupus, and I've been through chemotherapy. That's what my break was really about. I could've had a stroke," Gomez said. "I wanted so badly to say, 'You guys have no idea. I'm in chemotherapy. You're assholes.' I locked myself away until I was confident and comfortable again."
Gomez said it's been upsetting to see herself become tabloid fodder. "I'm so f—ing nice to everybody, and everyone is so vile to me. I've been working since I was 7. I've been a UNICEF ambassador since I was 17. It's so disappointing that I've become a tabloid story," Gomez said. But she was able to channel the negativity into her upcoming album, Revival. "The hate motivated me," she said.
And has she drawn any inspiration from Bieber's recent attempts to show he's matured? "No. This is my time. I've deserved this," she said. "I earned it. This is all me."