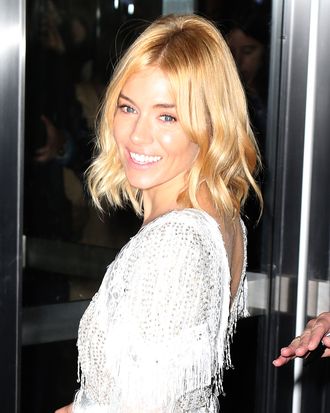 Sienna Miller.
Photo: Splash News/Corbis
Sienna Miller, the blonde one that you can identify six out of ten times, stars alongside Bradley Cooper in the implausibly titled cooking film Burnt, out this month and sure to charm. On the press cycle, the two have talked about everything from how they love to cook blah blah, how they are seriously so into food uh-huh, and now, they're coming for our slang, in an attempt to turn it into heightened, effete language.
In the preview for the film Burnt, Bradley Cooper's character "Adam Jones" is heard saying that they'd like his restaurant's guests to have culinary orgasms. In a Q+A with Frank Bruni at the New York City Wine & Food Festival on Sunday, Miller said, "I'm so easy, I love food so much. I regularly have culinary orgasms."
Excuseme, Bradley? Excuseme, Sienna? We've been having those for a while — and they're called foodgasms. Please.