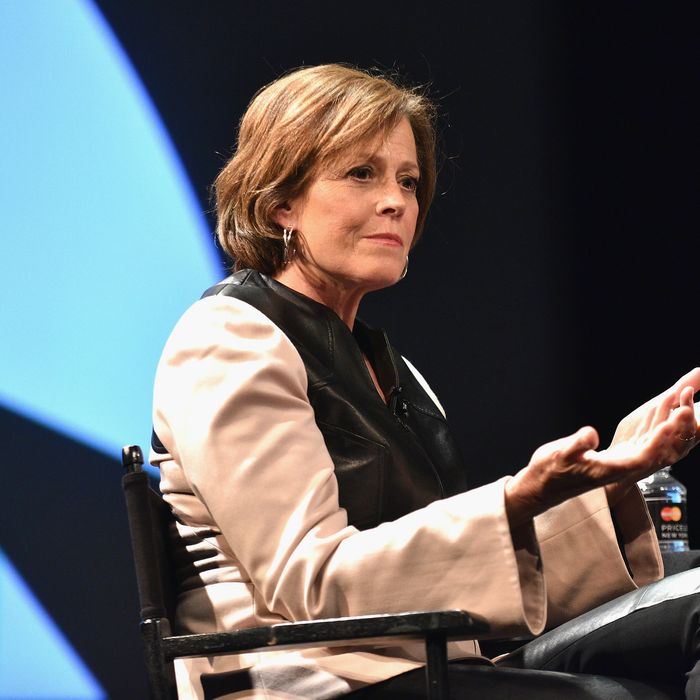 Sigorney Weaver speaks onstage during The New Yorker Festival 2015 on October 2, 2015 in New York City.
Photo: Bryan Bedder/Getty Images for The New Yorker/2015 Getty Images
Though typically known for portraying some seriously badass women onscreen, it turns out Sigourney Weaver is a total boss in real life, too. On Friday night, Weaver sat down with film critic Anthony Lane at the New Yorker Festival, and recounted one particularly bold interaction she had with President Ronald Reagan at a White House Christmas party.
Originally, the left-leaning actress didn't plan to attend — she said she found it "unthinkable" — but her father convinced her otherwise. At the event, she quickly discovered that she'd only been invited because, "A little Saudi prince wanted to sit next to the woman from Ghostbusters," and, "every time I opened my mouth they were like 'Is that actress talking again? Is she allowed to talk like that?'"
As if that weren't enough, when Weaver attempted to talk to Reagan about something a little more serious, she was swiftly pulled away. "I went up to President Reagan and I said, 'I'm very concerned about your position on abortion rights.' And he froze — or maybe he just stayed frozen — and I felt these two arms, and my feet just lifted up and the line carried through."
Despite her experience, Weaver went on to explain that she thinks, "In today's politics you look at Reagan and realize he's almost liberal." Now that's a scary thought.