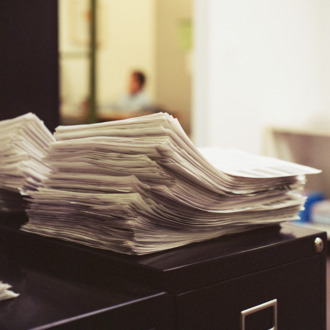 Photo: Reza Estakhrian/Getty Images
This week, some of the U.K.'s biggest employers announced a striking change to their recruitment process for some entry-level positions. Beginning very soon, they'll be purposefully keeping one very basic fact hidden: the applicants' names. It's an attempt to counterbalance the unfair advantage afforded to people with "white-sounding" names, as U.K. prime minister David Cameron said on Monday. 
Companies that have signed on to this initiative include some recognizable names, such as Deloitte, the BBC, the National Health Service, and the international bank HSBC. So far, this will only apply to the youngest job applicants — those just out of college — and the "blind" part of the process will only last until the interview, of course. Still, the idea is backed by at least two decades' worth of studies showing that people absolutely do make assumptions about an applicant based on his or her name, and this can influence whether the person gets called for an interview.
In one 1993 experiment recounted in the British Medical Journal, for example, researchers sent out 46 applications to 23 real job advertisements for various careers in medicine. Half of those applicants had English-sounding names, while the rest had more traditionally Asian names; other than that, their résumés were pretty much identical. In the end, those with the English-sounding names were twice as likely to be shortlisted for the job as those with names of Asian origin.
More recently, researchers from the University of Wisconsin at La Crosse published results of a similar experiment to that one from the 1990s, but on a much larger scale. They sent out more than 9,000 résumés to real job listings, using either a typical "white" name (like Claire Kruger or Cody Baker) or a typical "black" name (like Ebony Booker and DeShawn Jefferson). Other than the names, the résumés were identical. Their results weren't quite as strong as the earlier study, but they still found that the apparently white applicants were 14 percent more likely than the apparently black applicants to be selected for an interview.
Still, other studies have shown that the gender attached to a name can also impact whether an applicant moves along in the hiring process, particularly in the STEM field. When scientists were asked to evaluate the (identical) résumés of either a student named Jennifer or a student named John, poor Jennifer tended to be rated as less competent, according to a Stanford University study published last year.
The U.K. is not the first nation to try out the notion of blind recruitment — it's been tested in Germany and Sweden, for instance, and some initial results show that keeping the name hidden does seem to help more ethnic minorities advance to the interview stage. On the other hand, not all of the existing evidence is so positive. The French government tried a similar field experiment in 2010 and 2011, and on the one hand, their results show that it worked well for women, who were more likely to get a call from the prospective employer. But the minority applicants actually fared worse — their chances of getting an interview decreased in the blind recruitment experiment, as compared to the normal hiring process. The researchers believe this could be because there are other giveaways on a person's résumé and other application materials that signal race or ethnicity, like their address or the schools they attended.
Blind recruitment isn't a perfect solution. A better answer, as Science of Us reported last year, could be to devise tests that candidates can take in order to demonstrate their skills and abilities necessary for the job. What's clear, however, is that the typical job-application process is well overdue for a substantial makeover.