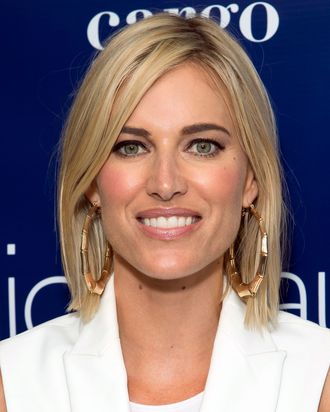 Kristen Taekman.
Photo: TheStewartofNY/Corbis
Kristen Taekman, a former Real Housewife of New York, has probably seen a better year than 2015. First her husband's subscription to Ashley Madison was exposed over the summer, then the name of her debut nail-polish brand, Pop of Color, was taken to task by Real Housewife cast-mate Bethenny Frankel, and most recently, that same nail-polish line made her appear culturally inept on social media.
One can only guess that when Taekman chose the Twitter handle @POC_Beauty she didn't deign to conduct any research like, say, perform a basic Google inquiry. If she had, it would have been clear that POC is an initialism most often used to mean "people of color." But since she didn't and doesn't appear to be fazed in the least bit about the handle snafu, it looks like a blonde white woman who lives in New York's diversity epicenter, Tribeca, will hold fort as the self-appointed authority on POC beauty from now on.