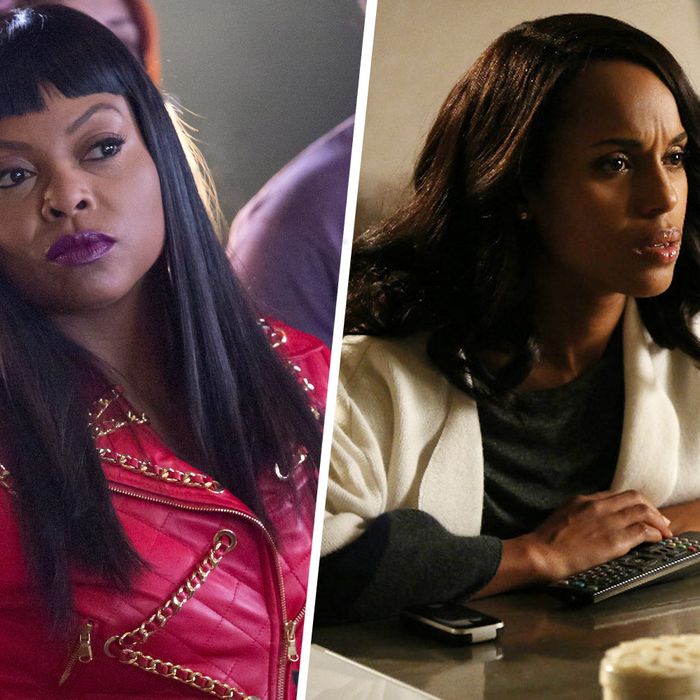 The most fashionable and powerful leading ladies of TV just keep on hitting stumbling blocks this season, but Cookie Lyon of Empire and Olivia Pope of Scandal won't take the challenges lying down (although the latter did spend a fair part of the episode sitting on her couch).
After yet another plan thwarted by her talent-poaching, urban-radio-monopolizing ex Lucious, Cookie fought back by pulling out her big sartorial guns and a flattering set of baby bangs. As for Olivia, she's still taking heat for her part in the presidential affair, so she lay low in her apartment and mostly wore sweats. Seems like no contest here, but from past experience, we know we shouldn't take anything that Cookie and Olivia do, say, or wear at face value, so let's start the smackdown. (Just catching up? You can find last week's recap here.)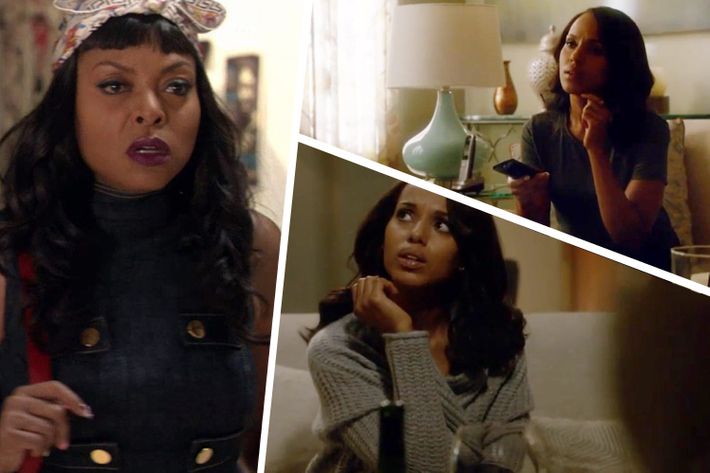 Round 1: Casual Chic Versus Just Plain Casual
Over at the Lyon Dynasty offices, Cookie's in a Derek Lam denim top and culottes. She accents the outfit with loads of statement jewelry, Jimmy Choo heels, and a Versace front-tied headscarf in homage to woman-in-the-workplace pioneer Rosie the Riveter, who owned the look long before Tupac.
Maybe in her time avoiding Fitz, Olivia has gained an appreciation for non-binding tops, loose-fit pants, and slouchy layering pieces, because she's keeping the relaxed vibe going. Granted, she is lounging in the comfort of her own home. And her thick gray sweater — thrown on as a protective layer over a cami top after spotting stalkerazzi across the way — is way chicer than what I'd wear while moping about my living room while working through a bottle of value red.
Winner: Cookie comes out on top for her girl-power ensemble. Extra points for the way her printed scarf was impeccably tied so the border framed her wispy baby bangs and peeked out from the lining of the bow.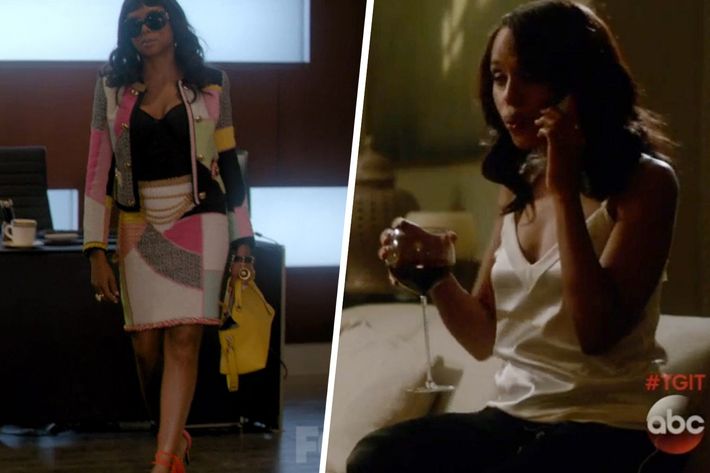 Round 2: What to Wear When You're Bantering With Your Love Interest
Cookie makes a surprise visit to Lucious's office to negotiate an agreement wearing yet another fabulous Moschino patchwork ensemble — this one in a bright color palette and nubby bouclé textures. Her accessories game is also on-point: two-toned Pierre Hardy tassel heels, a matching yellow Fendi bag, and, for drama, oversize Versace shades. Terms are agreed upon and playful insults are exchanged, although Lucious is the victim of some fat-shaming.
Now that the, uh, scandal has exploded, Olivia and Fitz resort to talking on the phone like a couple teenagers in the early '90s. While telling the POTUS to chillax and teasingly calling him an "idiot," Olivia stayed pared down but polished in elevated black track pants paired with a slinky cream cami top — cute, but just begging for a red-wine stain.
Winner: Sorry, Liv, but Cookie wins again for the vibrant patchwork and stellar accessorizing. Plus, the bright suiting created an optimum landing pad for yet another wisecrack/ass slap combo. Although, let's be honest, nothing will ever beat that bare butt-cheek smack during family dinner.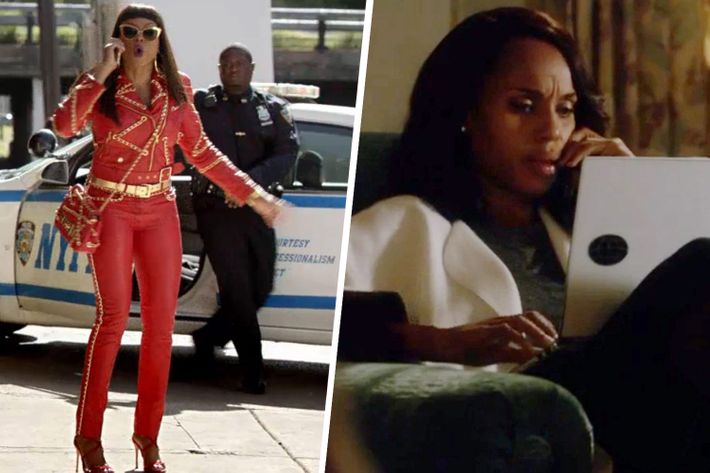 Round 3: Social Commentary
If Cookie is going to spend the majority of one episode wearing a single outfit, it might as well be a red leather, gold-chain-embellished Moschino alphet that calls to mind Eddie Murphy's Delirious (with a side of Michael Jackson's Thriller). She debuts it while her bickering sons Hakeem and Jamal filmed the Empire Entertainment version of "F*ck the Police," and the dramatic look kept going while she's hauled off by the cops on trumped up charges while screaming, "If I die in police custody, I did not commit suicide!"
Olivia faced the internet trolls and all their poorly spelled fury after changing into a white-and-black-striped sweater-jacket, slim black trousers, and badass tall leather Gladiator  boots. Like Cookie's Moschino outfit, this bolsters her through a series of hot topics that are basically Shonda Rhimes's F-you to the New York Times — media bias, racism, and sexism, plus some extreme cyberbullying. In the end, her effortless look ends up being the perfect transitional crying-at-home-to-date-night-out-with-the-married-president outfit.
Winner: This is a tough one, as both looks are distinctive and expertly styled for very differing aesthetics. But Cookie wins by a hair for the sheer audacity of her aesthetic. Sometimes you have to be literally and figuratively loud to make a statement.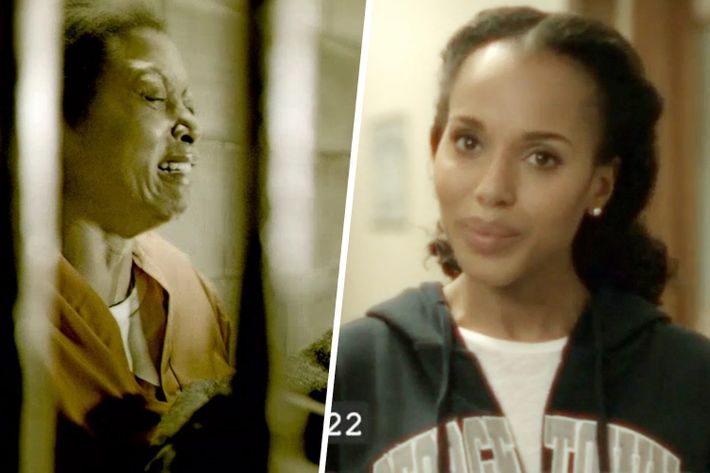 Round 4: Flashback Looks
When D.A. Roxanne Ford and her Cleavage of Vengeance hold Cookie in an interrogation room after her false arrest, the former ex-felon experiences PTSD flashbacks from her 17 years in prison. Cookie is at a disadvantage in this round, since the New York State Correctional Facility limits wardrobe options and she probably has better things to worry about. So we see a tragic Cookie in standard prison orange, but accessorized with a wooly gray prison-issued throw.
During a 20/20-esque dissection of Olivia's past on Scandal, a fairly amazing montage of vintage pics and clips plays for the audience. Especially memorable: a bright-eyed and fresh-faced Olivia clad in a white T-shirt, layered under a collegiate hoodie and accessorized by understated single pearl studs.
Winner: The playing field is definitely skewed here, but this one goes to the ghost of Olivia's past for effortlessly elevating her standard dorm room uniform with classic accessories that Anika Calhoun would probably borrow.
This Week's Champion:
Cookie Lyon takes this one. Sometimes a girl's gotta sit one out, and this week it was Olivia's turn. Not only did she cede the spotlight of the episode to supporting story lines — Fitz avoiding impeachment, Jake was apparently married to Sydney Bristow's also-spy half-sister from Alias, and Lazarus what? — she also took a break from her flawlessly tailored power suiting. But considering Olivia's fashion evolution through a single episode (and the upcoming trailer), she'll come out swinging by next week.