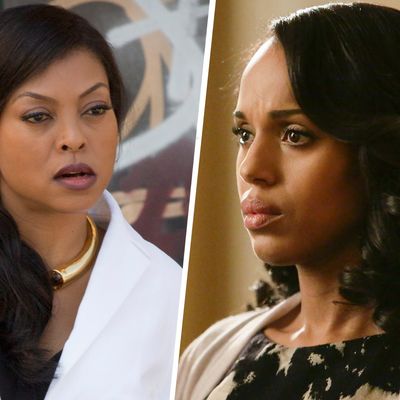 This was a rough week for Empire's Cookie Lyon and Scandal's Olivia Pope, the reigning fashion queens of fall TV. Both faced major, life-altering shake-ups, but while one let her wardrobe reflect how rattled she felt, the other doubled down on her personal style. Read on to see who emerges victorious from our weekly Style Smackdown — and prepare yourself, because there will be spoilers ahead. (P.S. If you're an episode behind, you can find last week's Smackdown here.)
Round 1: The Battle of the Betrayal Jackets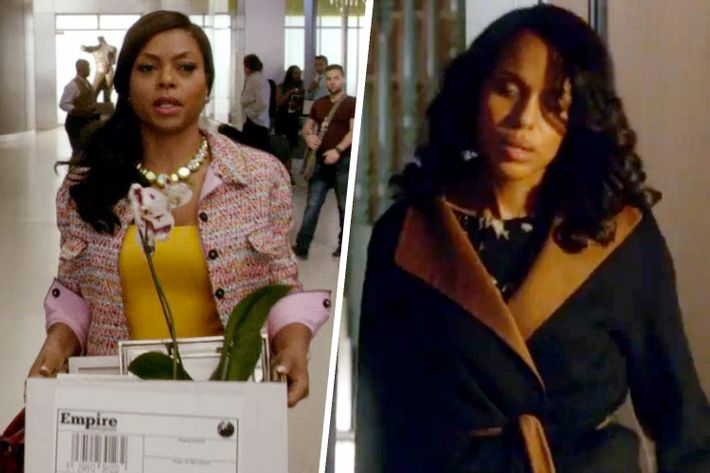 On Empire, Cookie is thrown out by her son Jamal, and sent packing since she betrayed Lucious. She walks out in a tweed blazer, pearls, and mustard dress. 
And on Scandal, Olivia is still in last week's outfit (a Dior floral blouse under a two-tone Max Mara coat) when she finds out that she has been outed as the First Mistress. She panics, bolting from the White House and going to Quinn's house to change.
Winner: Neither look is blowing our minds, but Cookie gets points for matching her jacket to her orchid.
Round 2: Getting Down to Business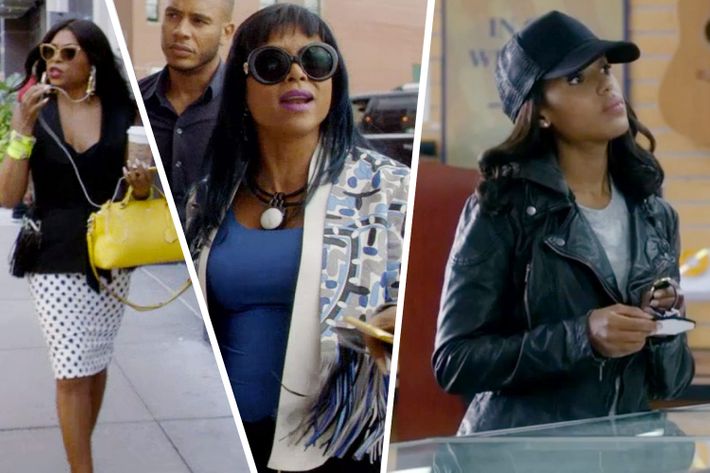 There are two ways to show it's getting-shit-done time: dress up, or dress tough.
Cookie deals with her expulsion from the Empire by changing into a black V-neck top with a polka-dot skirt, neon jewelry, and a mustard-yellow bag. But by the time she finds a space to start her new record label, she's swapped outfits again, this time wearing a Fendi fringe jacket, Alexis Bittar jewelry, and Gianvito Rossi pumps, with a cobalt blue Fendi bag to top it off. Sound like too much? We thought so too.
Now that Olivia is on the run, she's changed her name to Ruth and her outfit into something a little more comfortable: a leather jacket, T-shirt, jeans, and combat boots. You read that right: combat boots, the exact opposite of anything Olivia Pope would ever wear. She looks like she's going to war, and given what's happening to her image, in a way, she is. Next step: taking a job to find a kid named Gavin who she thinks killed his own father. 

Winner: The sight of Olivia Pope in combat boots has rendered us incapable of paying attention to Cookie. Sorry, boo-boo kitty.
Round 3: Sleek vs. Slouchy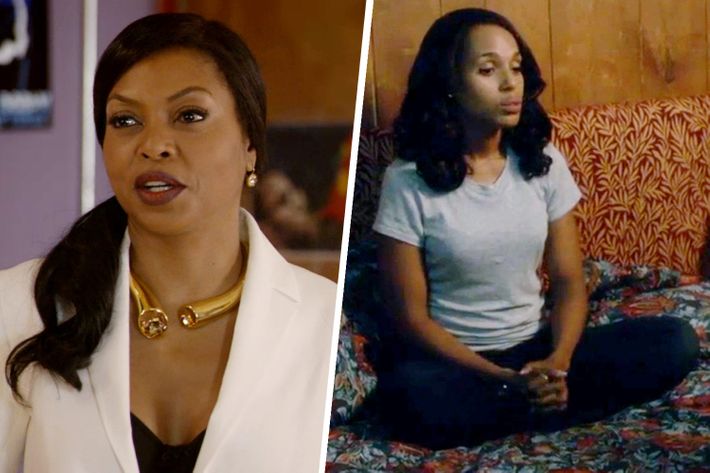 As Cookie goes around town meeting with artists and trying to figure out how she can fund her company, she's dressed for work in a white pantsuit, a black bodysuit, and a sculptural necklace. She looks flashy but confident — exactly why we love her.
Meanwhile, Olivia has holed up in a motel with Jake, where she's indulging her depression by drinking beer in a T-shirt and sweatpants. Yes, even Olivia Pope, fixer of all, breaks out the elastic waistband from time to time. 

Winner: It's oddly comforting to see Olivia looking so laid-back, but Cookie wins this round with her spotless suit.
Round 4: A New Start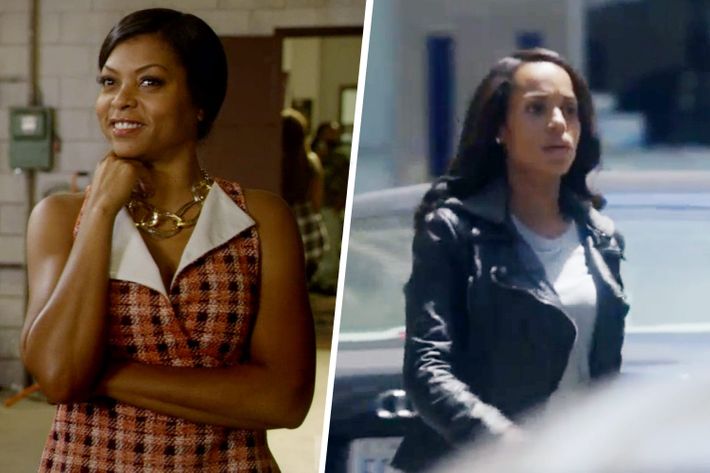 In the final scenes of each episode, both Cookie and Olivia are ready to begin again. Cookie finally finds a space for her new company, now dubbed Lyon Dynasty. Now that she has a room of her own, she's happy to get her hands dirty — not to mention her tweed vest and matching pants — with cleanup work.
On Scandal, it's time for Olivia to come out of the shadows. She's found Gavin and given him over to the authorities, and now realizes that no amount of work will ever be big enough to hide her from the press. As she steps out of the car, she stands taller, fixes her jacket, and looks the toughest she's ever been.
Winner: Cleaning in tweed vs. facing the future in black leather? Olivia takes this one.
This Week's Champion

Poor Cookie. Between Hakeem leaking his album online, Andre wanting to go back to the Empire, and Lucious dropping hits from behind bars, her plan to start her own label wasn't going so well — and her scattered mental state seemed reflected in her wardrobe. She might be known as a bad bitch, but this week's crown goes to Olivia Pope. Once she got out of that car, flipped her weave, and admitted that yes, she was sleeping with the president, she became the most badass woman we've ever seen. And the combat boots finally made sense.