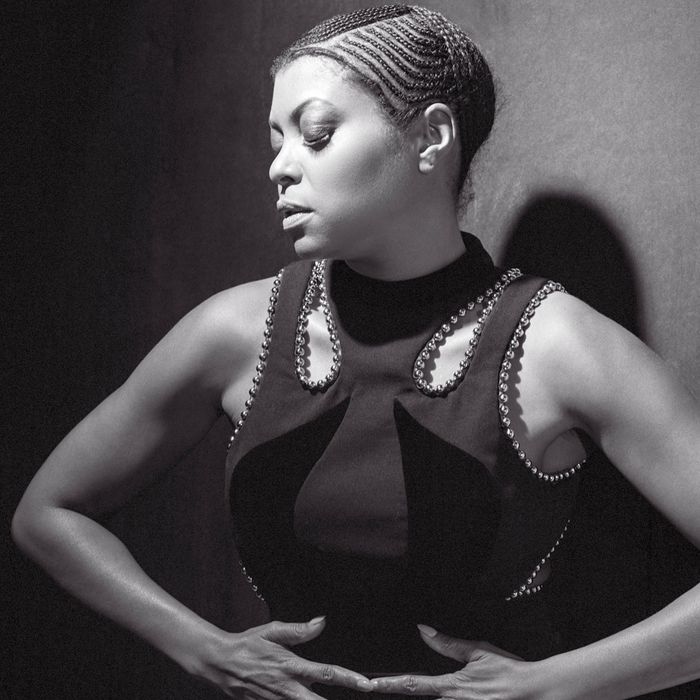 Her Majesty, Taraji P. Henson.
Photo: Bruce Weber/Courtesy of CR Fashion Book
Nothing holds Cookie down, especially not the hairy sweat-trap of a wig or weave. To prove this, Taraji P. Henson eschewed her typical arsenal of extensions and wigs and went completely natural for the latest issue of CR Fashion Book. Photographed in the cornrows that are usually hidden below one of her signature wigs, Taraji appeared in the pages alongside Empire co-star (and caftan aficionado) Jussie Smollett, as well as a hodgepodge of adorable men, including Michael Beasley, Henry Watkins, and instrumentalist Jon Batiste.
Henson tells the magazine that showcasing her natural hair was a game-time decision by photographer Bruce Weber after the loose scarf she was wearing over her cornrows slipped pre-shoot. She was apprehensive at first and felt like a "plucked chicken," she says, but she later praised Lupita Nyong'o, Viola Davis, and Solange Knowles on Instagram for their boldness in cutting their hair short. She also extolled the experience on Instagram, writing: "I decided not to block art and just let it be free." After all, everyone knows that you can't keep Cookie in a jar forever.