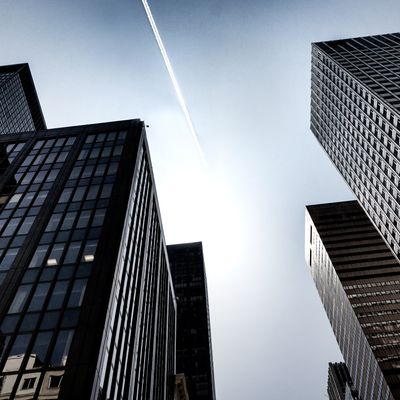 New York's Sex Diaries series asks anonymous city dwellers to record a week in their sex lives — with comic, tragic, often sexy, and always-revealing results. Check back Tuesdays for your weekly peek behind doors left slightly ajar. This week, a  Silicon Valley executive who misses New York and loves the finer things: female, 30, San Francisco, mostly straight, one boyfriend in New York and another in San Francisco.
DAY 1 
6:10 a.m. It's Tuesday. Why am I awake? Why am I awake? Xanax. Meditation. Masturbation. Back to bed.
8 a.m. Refreshed. Scarf down a banana and then toss half a piece of Adderall down the hatch to reverse the pre-breakfast sedative, and then off I go to work. This pharmaceutical roller coaster is familiar (Ph.D. life — I have a doctorate in psychology), but I rarely do it anymore nowadays. Full day of meetings with new employees at the tech company where I work. I am pretty sure I am presenting something to my director at noon, which means extra concealer under the eyes. Thanks, Studio Fix.
2 p.m. Leave the office and go to my car. FaceTime with NYC friend-with-benefits, who is angry because of his boss — something or other. I immediately segue into asking him how soon after he cooks me dinner is he "going to have my vagina as dessert." I haven't screwed him in a year and a half, but we rented a suite for a night in Tribeca with a kitchen because (a) he loves to cook and (b) he lives in Bushwick (Bushwhack) — which we both know I would not go to. He loves it when I boss him around, which is convenient because it's a natural skill I exercise at work every goddamned day.
4 p.m. Call doctor and ask for prescription for antibiotics to prevent UTIs. It is going to be a busy weekend and I want to be preventative.
7 p.m. Out to dinner with West Coast BF, who I've been seeing for a year. My boyfriends on opposite coasts don't know about each other; they both think they're exclusive with me. West Coast BF keeps saying how much he likes me while downing a bottle of Montepulciano. He always needs to hold my hand across the dinner table until the dishes arrive, which I find very annoying, but I placate him anyway. I eat squid-ink fettuccine with uni and have a dry martini. I am looking forward to a good pounding later, and he likes it deep. Win.
11 p.m. Sealed the deal. Thank God he doesn't snore. Sex puts him to bed, but wakes me up. I stream a few episodes on Netflix and finally pass the hell out.
DAY 2
7 a.m. I have time. He left early. It is officially Hitachi-o-clock.
8:30 a.m. Driving to work. Call a lawyer friend who tells me about her Tinder fling in Soho. She asks me how many guys I currently have in the loop, and then asks which one has the biggest dick. She knows I am a size queen. Call my NYC BF five minutes before arriving at the office to tell him I can't wait to choke on his cock while he abuses my clit this weekend. This is strategic buildup. We've been together for 11 months, and he's my favorite boyfriend — I'm looking forward to seeing him.
12 p.m. Later tonight, I have work drinks, and then super-exciting plans to have dinner with an ex-fling from four years ago who was married during the time we were in graduate school. We had passionately rough sex usually fueled by expensive Champagne (I never lived the struggling-budget, graduate-student lifestyle). I honestly cannot help myself when he is in town. I have only half-faith this will be a fun-but-not-sexual event. I decide to tell my SF boyfriend the truth about our history to allow for the dinner, and tell him that I will call him after so he feels comfortable. SF BF (the hand-holder) is so clingy that he needs constant reassurance, which is annoying but okay because I am excellent at multitasking.
DAY 3
6:30 a.m. What a night. Aforementioned old flame was in the Marines and boy do we still have sexual chemistry. I love being manhandled. He loves my hands in his ass, which is super-hot. No kissing, tons of touching, but in my book no "official" (read: penis in vagina) cheating has taken place. Woke up to find he had already made a pot of coffee. Proceed to a good mutual fingering resulting in G-spot and prostate orgasms, a quick shower, and still manage to skip all the traffic to make my 9 a.m. Bless the troops.
11:30 a.m. Oops. I look at my phone. Four missed calls. I totally flaked on checking in, and now SF BF is very upset with me. I call him to do damage control, and agree to meet him for lunch to quell his worries.
2 p.m. I am leaving to fly back to NYC later, so I decide to blow SF BF as a send-off present. Pellegrino is excellent for washing him down, which is good because I have a one-on-one meeting with my supervisor at 3 p.m.
9 p.m. First-class to JFK. Thank God. I can't wait to get back in NYC where I belong.
DAY 4
8 a.m. Flowers arrive at my NYC apartment. It's always interesting when flowers come, because I honestly have no fucking clue who sends them. SF? NYC? Valentine's Day makes my apartment look like the Botanical Garden. Anyway, they end up being from NYC BF, who is a mechanical engineer and knows how to fit big things into tight places. Such a problem solver.
9 a.m. SCORE. I knew I left a vibrator here for emergencies.
1 p.m. Many meetings. Today is a workday and I'm running back and forth between the East and Upper West sides. Barney Greengrass and Ladurée for breakfast and lunch respectively. I am stressed and not really too excited over NYC FWB anymore. I wish I could Seamless in some sushi, smoke some pot on the couch alone, and do laundry. This is how I know I am getting older.
6:30 p.m. Took a power nap for an hour, and then off to see FWB in Tribeca. I arrive over 30 minutes late and blame it entirely on the state of California making me into a flake. We share a very deep, passionate kiss as soon as I walk through the door. He is super-giddy that I'm there, and I refrain from squashing his excitement by telling him about my exhausting day. I tell him that I've been thinking about him serving me all day long, and he gets a boner.
11 p.m. Things ended a little, shall we say, "prematurely," and we snuggled a bit instead. I regaled him with horror stories from Silicon Valley, and he told me the TV industry in New York is dying. I tell a white lie, and report that I feel a UTI coming on but forgot my medication at home. Justified with the fact that I don't want to ruin my entire weekend, I suggest he invite a friend over and enjoy the hotel room because I really gotta go.
11:30 p.m. Guilt blow job.
12:15 a.m. Naked in my own bed. Sleep.
Day Five
10:30 a.m. Many missed calls. Facebook has revealed I am back in New York, and everyone wants a "quick drink," which usually results in me being blacked out by 2 a.m. No phone calls returned. Sticking to my plan.
1:15 p.m. Typical girls' brunch. I immediately discuss the many ways men are different in NYC and SF. I don't rock climb, cycle, or eat vegetarian, so dating is rough for me on the West Coast. I still date; although, I have quite a lot on my plate already. No one feels like the perfect fit and honestly that is what I am truly after, but in the interim I'd rather be getting laid than not. Ironically, I have never had a one-night stand. I need the relationship aspect; it's the only way sex is comfortable.
4:30 p.m. Champagne-drunk from brunch. NYC BF texted me and told me he would be at my apartment in 15 minutes. Uber home and brush my teeth.
5 p.m. Immediate sex followed by a back massage. Life is pretty good. I truly believe he is the best man I have ever met. I would marry him in a heartbeat, but his father is sick and he doesn't want to move to California just yet, so life plans are on hold. His life plans. I remain open for business while he sorts his shit out.
7:45 p.m. He gives me diamond earrings for my 30th birthday, which is tonight at midnight. We go to a steakhouse and both get martinis. He has a boner for most of the time. I love this man.
10:45 p.m. After-dinner drinks with very close friends at a friend's bar followed by more Champagne. I am itching to run home and have as much sex as my body can handle with my main squeeze.
11:30 p.m. Lights out. Sexy birthday time.
DAY SIX
10 a.m. Today, I am 30. Wake up to some oral and as predicted, I don't want to leave NYC. Consider taking a sick day, but don't want the hassle with the airlines. I request to film our session and he obliges. "Performance Me" is a very sexy side of me.
2 p.m. Turkish coffee quickly turns into Chablis, which turns into making out on a corner. Two dozen bagels, ten minutes of "I love you," and four missed taxis later, I get to JFK and still feel sad. This could have been my life, but instead I chose an awesome job, farmers' markets, and sunsets on beaches.
10:30 p.m. Land successfully, and SF BF wants to see me tonight for my birthday. I prefer peace — he will have to wait. NYC FWB texted me and told me how "grateful" he was to have seen me, and NYC BF got a long emotional email about how I wish our lives could start together now. I would certainly drop everyone for him. Time to switch gears and go to bed.
DAY SEVEN
8 a.m. Back on the road to the Valley of Technology. No more sadness. This is the job that pays my bills and maintains my lifestyle. As far as I am concerned, I can visit NYC whenever I want, but my life here is pretty great for now.
1 p.m. Make plans with a girlfriend to go to a fancy naked dinner-type thing in the Mission. Women are another weakness of mine.
4 p.m. Work, work, work. Can't wait to play, play, play.
9 p.m. As usual, end up making out with my girlfriend and grabbing boobs. Toward the end of dinner, SF BF agrees to meet me at my apartment, where I expect sweet belated-birthday action …
Want to submit a sex diary? Email sexdiaries@nymag.com and tell us a little about yourself.