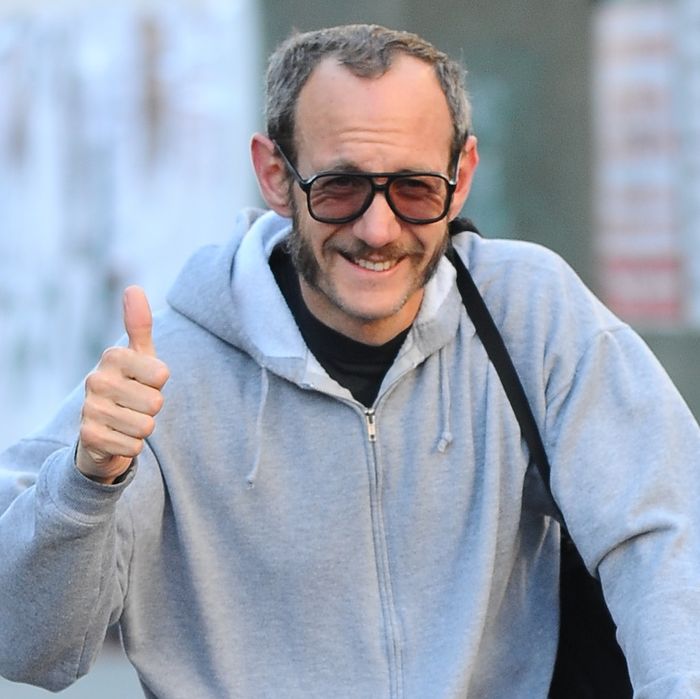 Terry Richardson, soon-to-be dad, has already mastered the proper attire.
Photo: Raymond Hall/Getty Images
Finally, Terry Richardson's love of Dad-approved flannel shirts and thumbs-ups will seem fitting.
"Page Six" reports that the controversial photographer is expecting a child with former assistant, now girlfriend Alexandra Bolotow. Sources say the couple has been "discreetly telling friends" the news. Richardson met Bolotow nearly a decade ago while she was a student at NYU and interned with him. She became his assistant and later his model, appearing in several photos in his 2005 book, Kibosh. The two have reportedly been dating since 2014, following Richardson's split with Audrey Gelman.

The news is still unconfirmed by Richardson's team.
Update: This morning, Richardson posted an Instagram announcement confirming the news. The couple is having twins.
He writes: "Babies' first Page Six shout out! We weren't planning to make this news quite so public quite so soon, because we are very cautious after going through some very difficult and heartbreaking losses, and always afraid of jinxing it, but since the cat is out of the bag … Skinny and I are very excited to let you guys know that we are expecting TWINS in the spring!!! This has been a difficult journey and we are so thankful to be surrounded by so much love and support from our friends and family, and some incredibly smart doctors! I'm sure the kids will be excited to use this as a Throwback Thursday one of these days!!!"