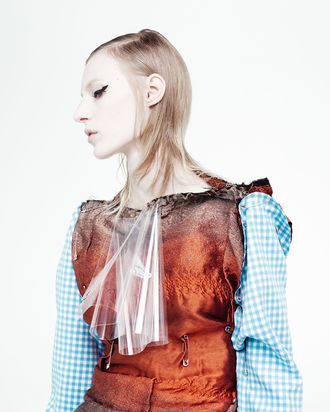 Relationships are everything in the fashion world. It's hard to even quantify the effects of a close attachment like that of Pat McGrath and Steven Meisel. Who's to say what Yves Saint Laurent might have made if he hadn't met Betty Catroux or Loulou de la Falaise? Or what we'd think of Helmut Lang without the stylist Melanie Ward.
For 26 years, since they met as students at Antwerp's Royal Academy of Fine Arts, the stylist Olivier Rizzo and the photographer Willy Vanderperre have been inseparable. They also collaborate on shoots. Their close friend is the designer Raf Simons. And Rizzo works on the Prada collections with Miuccia Prada and her longtime design director Fabio Zambernardi. "Fabio, Raf, Willy — they're like my gang," Rizzo said last week after Prada's Miu Miu show. He has commemorated those relationships — among the most productive in fashion — in the fall issue of Document magazine, for which he served as guest editor.
While a small post-show crowd lingered on the Miu Miu runway, drinking Champagne — it was the last day of the European spring collections — Rizzo sat off to the side. A copy of Document was opened and he had stopped on a page. It showed the model Julia Nobis in a crinkly orange top with sleeves of blue gingham (also known as vichy). A flourish of clear plastic hung from the neckline. As Rizzo spoke, he could have been describing his life and loves in a single image.
"This is my version of a Renaissance Flemish painting," he said, "done with Prada fabrics. If there's one thing I've learned over the years from Mrs. Prada and Fabio it's how to develop fabrics. This particular piece revolutionized, in a very simple way, the making of fabrics. It's the first time you had three types of fabrics bleed into one. It's silk going into silk with a polyester backing [to create the bubbly texture], going into a blend of wool and silk to create a tweedy surface. The fabric was used in the autumn 2007 collection. I then wanted to combine it with plastic, because plastic is unnatural, man-made. I turned it into a Renaissance jabot."

He continued: "The inspiration was a painting by David Teniers II, who founded the Royal Academy. The painting is called The Alchemist. For me, it means walking through the doors of the Academy in October of 1989, and running into Mr. Willy Vanderperre when he was 18. It's also a reference to me being trained as a designer, though I don't claim to be one. I deliberately didn't want to stitch the fabric, so everything is pinned. I just cut out the piece and pinned it. I had all the rolls of fabric from Prada on the set. Willy first shot the piece without sleeves, and I said, 'Hold on. With the orange, I like a little bit of vichy.' I started cutting out the blue check and then pinning it on. All this happened in less than five minutes."
But, plainly, it's the subconscious work of a quarter of a century. The nobeless portrait opens a 112-page portfolio shot by Willy Vanderperre.