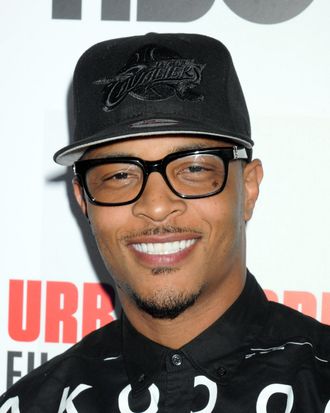 T.I.
Photo: Johns PKI/Corbis
Atlanta rapper T.I. has a new EP to promote, and in the midst of that endless promotional hustle, he's managing to say things more embarrassing than all the times he's defended overt nonentity Iggy Azalea. On DJ Whoo Kid's radio show, "The Whoolywood Shuffle," this week, Tip had something he wanted to say about the forthcoming election, so we let the man speak.
As we all know, any statement uttered after "Not to be sexist" is sure to be sexist, but let's give T.I. the benefit of the doubt.
"Not to be sexist but, I can't vote for the leader of the free world to be a woman," he begins.
Oh, okay. Sounds sexist. But there's more; perhaps his comments are worth salvaging?  
"Just because, every other position that exists, I think a woman could do well. But, the president? It's kinda like, I just know that women make rash decisions emotionally — they make very permanent, cemented decisions — and then later, it's kind of like it didn't happen, or they didn't mean for it to happen. And I sure would hate to just set off a nuke. […] [Other leaders] will not be able to negotiate the right kinds of foreign policy; the world ain't ready yet. I think you might be able to get the Lochness Monster elected before [a woman]. It's not right, but I'm just saying …"
T.I. being sexist is not right, but I'm just saying. So who will the rapper be voting for, if not Hillary? Here's a hint: He's a sentient head of cotton-candy hair and his name rhymes with Stump.
After T.I.'s comments began to spread, the man took to Twitter in record time to apologize.
Another lesson learned in the perils of even thinking of uttering the words "Not to be sexist but …"