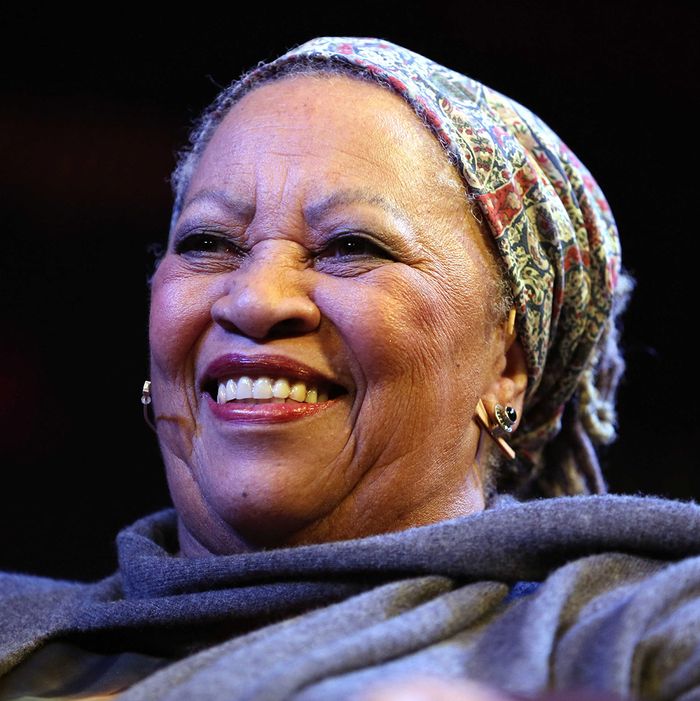 Toni Morrison.
Photo: Dimitris Legakis/Corbis
On Friday, Hilton Als (author of White Girls) conducted a talk with the legendary Toni Morrison at the New Yorker Festival. Morrison has written 11 novels, seven works of nonfiction, and no big deal but in 1993 she won the Nobel Peace Prize for literature, making her the most recent American to win the award. Her latest book, God Help the Child, continues her quest to create stories that take apart and put together black bodies, as one of the few authors who remains committed to her own authoritative voice. Here are some key quotes from her conversation with Als.
On survivors, and forgiveness:
"The really vile and violent and bestial treatment of slaves and their descendants did not succeed in making those descendants reproduce that violence and that corruption and that bestiality. [A contemporary example is] the survivors and the family members who were killed in that church did not say of the killer 'I want him dead' — it was something grander and more humane. It was eloquent and elegant, the response of forgiveness. We sometimes understand that generosity … as a kind of weakness, whereas I always thought that that was extreme strength."
How men began to assert control over women's reproductive rights:
"I think that in the beginning, there were a lot of female gods in early civilization because men thought that women just gave birth by magic, whenever they felt like it. Then they began to have domesticated animals, and saw that the animals could reproduce in three months or one month, and so the guys said, 'Hey, wait a minute — she's not the one who gives life — we are!' So all the gods changed names — there were some little girly gods around … that's my historical view of the change."
Why she'd rather be a "citizen" than a "taxpayer":
"I remember when I was a young girl we were called citizens. We were second-class citizens, but that was the word. After World War II they started calling us American consumers. Now they don't use those words anymore. Now it's taxpayers. If you're a citizen you're a community, your neighbors are part of you. If you're a consumer, you just go to the store, but if you are only a taxpayer you are worried about the money you paid and that you don't have. That's a whole different thing."
Her experiences with segregation and light-skin privilege:
"[After moving to Washington, D.C., for school], it was my first time in the south; it was a shock to me. I didn't know about skin privileges when I grew up in Ohio. We had one high school and so we were all lumped together. When I went to Howard University (a historically black university), when we went to town it was segregated and you had the colored signs on the buses. I, being a lunatic, had thought that it was all theater. I thought, Nobody is going to make two sinks, that is so expensive! We knew the one department store where you could go to the ladies' room, called Hicks. In the city it was all very strange, but on campus we were safe. However, the skin privilege was very pronounced and I didn't understand it. I still don't. This sorority, they were mostly dark; this sorority, they were mostly light; and this sorority, they were in-between and smart. They used the paper-bag test: If you're darker then than a paper bag it meant something, if you're lighter, then goody!